By Kristin Cooke | April 27, 2020
The COVID-19 pandemic has made the digital divide in the United States especially stark. As Americans stay home and join people all over the world by practicing social distancing, many are doing so without high-speed internet access that allows them to work, study, and recreate on equal footing.
According to the World Economic Forum, 6% of Americans do not have access to a high-speed internet connection. In 2019, the FCC estimated 21.3 million Americans don't have access to internet service at broadband speeds, though research by Microsoft has indicated that number to be as high as 157.3 million.
But some parts of the country are much better off than others. Think your state is tech savvy? Wondering where working and studying from home is easy, thanks to a good internet connection? We analyzed thousands of data points to find out which states are the most and least connected to the internet in 2020.
Read on to find out how your state stacks up.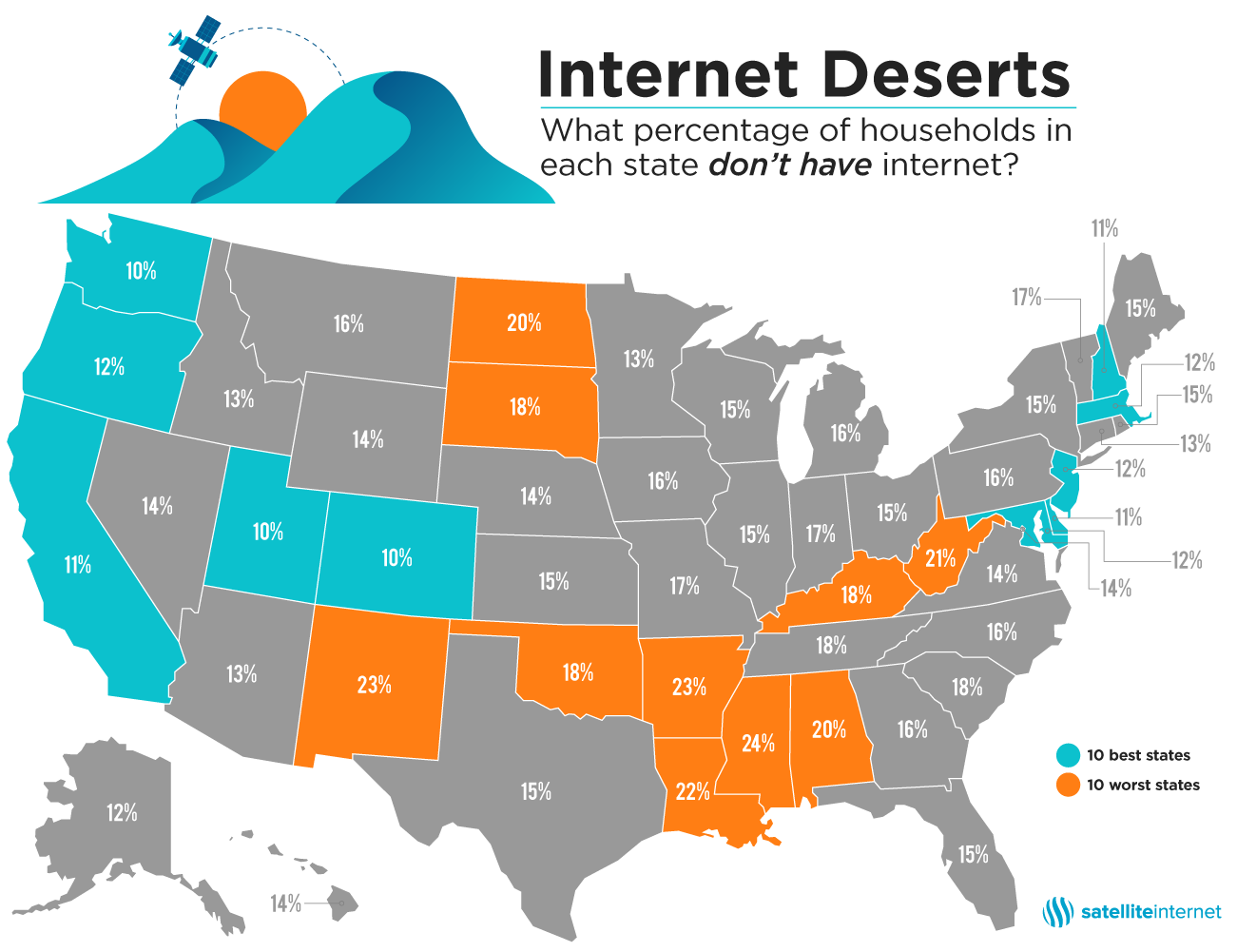 What's an internet desert?
There are many parts of America where there are no internet service providers (ISPs) that offer broadband internet. These areas with no or very limited internet access are "internet deserts" where you can't find affordable, high-speed internet (they're also known as "digital deserts"). Many of these areas are sparsely populated or rural areas, though many are also urban areas where services like high-speed cable, DSL, and fiber internet don't reach.
The states with the most internet deserts
When it comes to internet access, southern states are getting the bad end of the deal. If you look at a list of the 10 least connected states, you'll see Mississippi, Arkansas, Louisiana, West Virginia, Alabama, South Carolina, and others. If you live in one of these states, your internet options may be limited or expensive.
Mississippi
Arkansas
New Mexico
Louisiana
West Virginia
Alabama
North Dakota
South Dakota
Kentucky
Oklahoma
The states with the fewest internet deserts
The top five most connected states are Washington, Utah, Colorado, New Hampshire, and California. These states have the highest percentage of households that are connected to the internet.
It's not surprising that California and Washington make this list since they're well-known tech hotspots. New Hampshire also makes sense since it's densely populated and one of the wealthiest states in the US.
But we were surprised by Colorado and Utah, which each have large undeveloped regions and are known primarily for their ski resorts and hiking trails. Guess there's more to the Rocky Mountain states than meets the eye.
Washington
Utah
Colorado
New Hampshire
California
Delaware
Maryland
Oregon
New Jersey
Massachusetts
Why does the digital divide matter?
In the states with the fewest internet deserts, it's easier for folks to stream videos, work from home, take online classes, and run a business. These states also tend to have a higher income level than the states where it's harder to get online.
In the worst connected states, everyday tasks like checking on your child's homework progress is a burden, due to overpriced or slow internet service. And taking classes online, streaming videos, or working remotely is difficult or impossible in homes without reliable, high-speed internet access—almost 3 million students in the US don't even have internet access at home.
Bridging the digital divide
Though not every area in America has access to a high-speed wired internet connection, most every part of the country (with very few exceptions) is serviced by satellite internet providers. Viasat and HughesNet each provide satellite internet across the country, even in remote areas.
Satellite internet does have its limitations. It can be disrupted by weather conditions, and it has more latency than wired internet because signals must be beamed to satellites in orbit. It's also more expensive than wired providers for how much speed you get. But for many Americans, it's the best internet option available.
A new player in satellite internet, Starlink, could change the game by offering faster speeds and more affordable prices to every corner of the Earth. In fact, Elon Musk has made specific claims that Starlink will fill an important niche in providing better and more affordable internet service to those who live in rural areas.
Particularly during the COVID-19 pandemic, initiatives to increase wired internet access to rural parts of America have also received renewed attention. And in a world where faster internet is correlated with success (higher household income, graduation rates, ACT scores, and more), we can only hope the digital divide will finally get the attention it deserves.
Methodology
The data analysts at SatelliteInternet.com used the percentage of households that don't have an internet subscription to find internet deserts. Our data comes from the US Census Bureau's American Community Survey. We compared these data points in an effort to glean a new viewpoint on the digital divide and shed light on the internet deserts in modern-day America.
For state-level data, we used the one-year estimates. For counties, we used the five-year estimates. One-year files are better for more timely data. Five-year files are better for accuracy in smaller locations.