Satellite Internet
is Available in
Your Area
Speeds of 25 Mbps1 with HughesNet Gen5
Your Wait for Quality High-speed Internet Is Over
HughesNet® is available almost everywhere, from coast to coast, and is America's #1 choice for high-speed satellite Internet service. HughesNet Gen5 uses advanced JUPITER™ System technology and the EchoStar XIX to create next-generation architecture for fast, reliable satellite Internet. With this exclusive technology, HughesNet Satellite Internet offers plans that provide faster speeds and more data.
HughesNet Is America's #1 Choice for Satellite Internet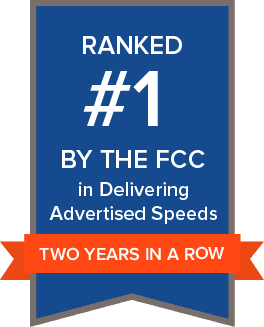 HughesNet Offers Faster and More Reliable Internet Speeds
HughesNet delivers fast and reliable high-speed Internet so you can do what you want whenever you want.
Browse your favorite sites, stream quality content, and upload photos to social media.
Access the fastest Internet speeds HughesNet has to offer.
Receive FREE standard installation* when you sign up.
HughesNet Gives You More Data
We offer four service plans that provide more data than ever before: 10 GB, 20 GB, 30 GB, and 50 GB*. Just choose the plan that works best for your family and start surfing the web with reliable, affordable high-speed Internet.
* Subject to availability

Bonus Zone
With Bonus Zone, you get 50 GB of free data to use each month between 2am–8am.2 You can use it to download programs, movies, or music so you don't chew through data from your monthly service plan.

Unlimited - No Hard Data Limits2
Even if you exceed your data plan, HughesNet won't cut you off. You'll stay connected at reduced speeds, typically 1-3 Mbps., until the next billing cycle. We also offer Data Tokens if you can't wait to get back to full speed.

Access Data-Saving Features
We automatically adjust your data rates when you've gone over your plan without regulating quality.
Manage data via the Usage Meter
Mobile App, or online Support Center
Watch 3x more video using the data-saving feature12
Opt-in, or out, based on your needs—nothing is permanent
HughesNet Gives You Built-In Wi-Fi
When you sign up with HughesNet, you'll get access to Wi-Fi already built into your service:
Access 2.4 GHz and 5GHz of incredible speeds and reliable coverage
Connect multiple devices throughout your home
Get separate guest Wi-Fi for visitors to keep your private network secure
Receive FREE installation by a professional HughesNet team member
Monitor data usage and track your Wi-Fi performance
Where is HughesNet Available?
HughesNet Satellite Internet is perfect for people who are tired of slow DSL Internet connections. With HughesNet, you get access to high-quality equipment that will keep you connected to the rest of the world without costing an arm and a leg.
*Internet via Satellite is subject to Fair Access Policies and is not ideal for online gaming, or day trading.
How Does High-speed Satellite Internet Work?
Unlike other Internet providers, HughesNet gives you two-way satellite Internet that works through a satellite dish. When you type in a web page, a request is sent from your computer to a satellite, which then beams information back to you. This process takes about a fraction of a second.
Plus, with HughesNet's latest launch of premier satellite technology more households and small businesses across the nation have access to the fastest Internet available. Don't fall behind.