The best satellite internet providers
Actual speeds may vary and are not guaranteed.
Viasat (formerly Exede) and HughesNet are currently the only residential satellite internet providers available to the US, but Starlink is coming soon (it's currently in its beta testing phase). For now, Viasat and HughesNet provide nationwide service, so you can choose between the two wherever you live.
Looking ahead, there are a few new providers launching residential satellite internet service in 2020 and through early 2021. In addition to Starlink, Project Kuiper (from Amazon) is also building a satellite internet constellation. Starlink will be the first truly unlimited satellite internet provider, offering unlimited full-speed data. HughesNet and Viasat advertise to be unlimited satellite internet providers, but they limit the amount of full-speed data you can use each month. With Viasat and HughesNet, once you reach your "data threshold" for the month, you can keep using data (an unlimited amount), but your download speeds will slow way down to around 3 Mbps.
In the past, there were more satellite internet options available. But keeping up with advancing satellite technology is expensive, and only Viasat and HughesNet stayed in the game. Because of this, a lot of satellite internet service providers adapted or redirected their services, reducing the competition in the satellite internet market.
Satellite internet providers summary
Viasat: Available nationwide
HughesNet: Available nationwide
Starlink: Expected to launch in 2020 or 2021*
OneWeb: Expected to launch in 2021 or later (purchased by Bharti Global and British government in July 2020 following March 2020 bankruptcy filing)
*Starlink's private beta began in late summer 2020, with a public beta set for as early as November.
Discontinued satellite ISPs
dishNet: No longer available, but you can bundle DISH with internet from other providers
EarthLink: Discontinued satellite internet but now sells HughesNet internet
Exede: Changed branding to Viasat
WildBlue: Acquired in 2009 by Exede (now Viasat)
So, should you get Viasat or HughesNet?
Here's a quick look at the highlights of the two leading satellite internet providers. For a more in-depth comparison, check out our Viasat vs. HughesNet review.
Internet speed
The biggest reason to get Viasat Internet is the speed. Viasat offers high speeds up to 100 Mbps in many locations, which is four times faster than the top HughesNet speed. That speed lets you do things like stream movies in HD or have several people use your connection at once.
Free installation
Viasat offers free installation to qualifying customers, a low equipment leasing fee of just $9.99 per month, and plenty of ways to contact customer service if you have any issues. To get free installation, customers need to have a credit check and receive a high score. If a customer's credit score isn't high enough to qualify for free installation, Viasat will charge a $99.99 installation fee.
Lots of choices
There are a variety of Viasat plans with different internet speeds, pricing, and data caps—although Viasat likes to call them "data thresholds" because your service won't get cut off if you hit the limit.
If you reach the threshold before the end of the month, Viasat will deprioritize your data on the network. That means your connection will be much slower for the rest of the month. So, pick a plan that gives you enough priority data to last through the month.
If you want the fastest satellite internet available with low fees and free installation, get Viasat.
Best value
HughesNet offers the best value on satellite internet because it gives you the most speed for the lowest price. Viasat does have one cheaper package than HughesNet, but the download speed on that package is only 12 Mbps, which falls below the FCC broadband standard. When you compare only satellite plans that meet the broadband standard, you could save over $10 per month by choosing HughesNet.
Data bonus zone
HughesNet data caps range from 10 GB per month up to 50 GB per month. If you hit your data limit, your service will still work, but it will be much slower for the rest of the month. So instead of experiencing download speeds of 25 Mbps like you normally would, your connection will be slowed to 1 to 3 Mbps, which may prevent you from streaming video content steadily. (Netflix's lowest recommended speed is 1.5 Mbps, although they recommend at least 3 Mbps for standard definition streaming.) You can buy extra data if you need it, but you can save data by using the Bonus Zone. The Bonus Zone is during the off-peak hours between 2:00 a.m. and 8:00 a.m. You get 50 GB per month of Bonus Zone data with each plan.
Free installation when you lease
HughesNet offers free installation if you lease your gateway (which is $9.99 per month for the first year and $14.99 per month thereafter). But it charges up to $199.00 for installation if you purchase your gateway. When you add that to the cost of purchasing the gateway, it's easy to see why we recommend leasing the equipment.
For the lowest price on satellite broadband internet, go with HughesNet.
Pros and cons of satellite internet
Pros
Availability: Satellite internet is available almost everywhere in the US. That makes it an excellent solution for rural areas.
Speed: Satellite internet is much faster than dial-up internet, even allowing you to stream videos online. Some plans are as fast as DSL or cable internet plans.
Flexibility: Satellite internet may not be good for niche activities like high-speed gaming but it performs well for most day-to-day usage like browsing, sending and checking emails, and even occasional video streaming (just watch that data cap).
Cons
Data allowances: Satellite internet plans come with an allotment of data—a benchmark for how much information you can download or upload at the speeds you're paying for. After you reach that data cap, your internet speed will slow down considerably.
Latency: Sending information to space and back takes a few seconds, making it difficult to play fast-paced online games.
Did you know?
Satellite internet service is generally not affected by natural disasters, pandemics, or other events. The exception would be if a storm or earthquake knocked over a broadcasting tower.
As a general rule, satellite internet is well equipped to keep people connected to work, school, friends, family, news, and entertainment irregardless of current events. And if hanging out with your family 24/7 is getting a bit much, you can also use your satellite connection to escape for an hour or two. Play a game of Scrabble, learn to build a bench on YouTube, or take an online yoga class.
Satellite vs. other internet services
Because of small data allowances and latency issues, satellite internet can't quite keep up with other rural internet options, including DSL, cable, and in some cases even 4G LTE home internet. But that doesn't mean it's miles behind them in every category.
If you live in a rural area and don't have access to other types of internet service, we recommend satellite internet. But if you can get service through another type of internet service—like cable, DSL, 4G LTE home internet, or fixed-wireless internet—check out those options first.
DSL and cable usually don't have data caps and may be faster than satellite internet, and fixed-wireless internet tends to offer better prices for the speeds you get.
Swipe left to see all →
| Internet type | Max download speed | Max upload speed | Availability in US† |
| --- | --- | --- | --- |
| Satellite | 100 Mbps | 3 Mbps | 99% |
| DSL | 100 Mbps | 30 Mbps | 87% |
| Cable | 2,000 Mbps | 1,000 Mbps | 88% |
| Fixed wireless | 100 Mbps | 3 Mbps | 45% |
| LTE home internet | 25–60 Mbps | 3 Mbps | N/A |
*Data is estimated from currently offered plans from popular providers and subject to change. †Availability percentages as reported in FCC Fixed Broadband Deployment.
For a more accurate pricing comparison, let's look at what a 25 Mbps plan might look like from each provider type. This is a useful speed to compare since it's a good fit for a household of 2–4 people who need access to Ultra HD streaming.
Swipe left to see all →
| Internet type | Download speed | Introductory price |
| --- | --- | --- |
| Satellite | 25 Mbps | $49.99–$150.00/mo. |
| DSL | 25 Mbps | $45.00–$50.00/mo. |
| Cable | 25 Mbps | $24.99–$44.99/mo. |
| Fixed wireless | 25 Mbps | $49.99–$79.99/mo. |
| LTE home internet | 25 Mbps | $40.00–$60.00/mo. |
You may have noticed the price range for satellite internet is much broader than that of DSL and cable. The variation comes from HughesNet, which sets all its plans at 25 Mbps but adjusts the pricing based on the data allowance, unlike DSL and cable plans, which are priced by speed.
With those comparatively high prices and low data allowances, satellite internet keeps up with the competition by offering something its competitors can't: wide availability.
Satellite internet is an excellent solution for rural areas that can't get DSL, fixed-wireless, fiber, or cable internet.
Are there government programs for free internet or subsidized internet in rural areas?
Yes, there are government programs to help rural and/or low-income Americans get low cost internet in their homes. 
Recognizing that many rural Americans are too wealthy for Lifeline but cannot afford to personally install hundreds of miles of fiber or cable infrastructure to connect them with existing networks, the FCC assists with several government programs to help bring internet service to rural areas. 
Some of these programs aimed at ending the digital divide include giving direct funding to expand rural broadband through programs like the Connect America Fund and the Rural Digital Opportunity Fund. FCC programs tackling the digital divide also include data collecting initiatives that shed light on the extent of the digital divide and where funding could do the most good.
Best satellite internet plans for rural areas
Most recommended plan: Viasat Unlimited Platinum 100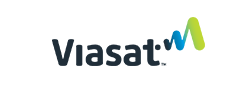 Price: $150/mo.

Download speed: Up to 100 Mbps*

Data threshold: 150 GB
Best for basics: Viasat Unlimited Bronze 12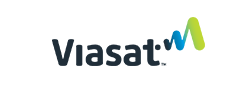 Price: $50/mo.

Download speed: 12 Mbps*

Data cap: 35 GB
*Actual speeds may vary and are not guaranteed.
Swipe left to see all →
| Provider | Data | Download speeds | Price | Get service |
| --- | --- | --- | --- | --- |
| Viasat | 10–150 GB* | 12–100 Mbps | $30.00–$150.00/mo. | View plans |
| HughesNet | 10–50 GB | 25 Mbps | $49.99– $149.99/mo.† | View plans |
Satellite internet: What it is and how it works
Satellite internet uses a satellite in space, a satellite dish at your home, and the provider's Network Operation Center (NOC) to provide you with internet services, even in hard-to-reach rural areas. Thanks to its advanced technology, satellite internet offers high-speeds that greatly surpass dial-up internet.
Viasat and HughesNet's satellites are in Earth's geostationary satellite orbit. By rotating at the same rate as the Earth, they can stay in the same place and provide a satellite internet connection to customers in the US. Sitting over the equator, satellites can send and receive signals through "spot beams" that cover most of the US. As long as you're within one of these beams and other users aren't using all the data capacity, you can get satellite internet service.
There are two main choices for satellite internet: Viasat and HughesNet. Either can set you up with a small satellite dish pointed toward its satellite in the southern sky and a modem/router for your home. Starlink (from SpaceX) will be a high-speed satellite provider launching service to parts of the northern US and Canada by late 2020 and expanding service in 2021.
How low-Earth orbit (LEO) satellites will change the satellite internet game
Starlink will be a new satellite provider coming to some parts of the US and Canada by the end of 2020. Starlink (from SpaceX) is the front-runner in the next generation of satellite internet service. Starlink will offer faster internet speeds and less lag than what's currently possible with satellite internet by launching satellites into low-Earth orbit (LEO). Satellites that are in LEO offer much faster internet speeds because data doesn't have to travel as far as with traditional satellite systems.
Starlink isn't the only company working to leverage a LEO satellite system to deliver fast internet. OneWeb is launching satellites to meet similar goals, although funding issues have slowed the company down. Project Kuiper (backed by Amazon) is also building a satellite network that will deliver fast internet service, although details are still sketchy on whether residential customers will be able to get internet with Project Kuiper.
What equipment will I need for satellite internet to work?
To use satellite internet, you'll need an internet-ready device (like a computer, tablet, or gaming console), a modem/router, and a satellite dish. You probably already have internet-ready devices at home, and your satellite internet service provider can set you up with a modem/router and satellite dish.
Which modems and routers work with satellite internet?
Both HughesNet and Viasat have their own modems because satellite internet modems don't have industry standards. While they also have modem/router combos, you can buy your own router, such as the NETGEAR Nighthawk. Almost any modern router will be compatible.
How fast is satellite internet?
Download speeds for satellite internet range from 12 Mbps to 100 Mbps, depending on the satellite provider. But keep in mind those are advertised speeds. The speeds you actually experience may be slower.
Is satellite internet fast?
Short answer: not really.
Long answer: satellite internet can be faster than dial-up and some DSL providers, but rarely is it faster than cable internet providers. And, of course, it depends on which satellite internet plan you pay for. For example, you can get up to 100 Mbps with a Viasat plan, but it'll cost you. And you could get the same or similar speeds for less money via a cable or DSL provider.
Also, when Starlink launches, it might change how we think of satellite internet. If you're to believe the hype, Starlink may offer both high speeds and low latency at lower prices than Viasat and HughesNet. However, we'll have to wait until we get our hands on it to know if Starlink's satellite internet service can truly deliver fast, affordable satellite internet.
When will Starlink satellite internet be available? 
Starlink is currently in beta testing. In late 2020, Starlink's public beta testing is scheduled to begin. According to current plans, people will be able to sign up for Starlink internet by the end of 2020 or early 2021, depending on where they live. People living in Canada and in northern parts of the US will have access to Starlink service sooner than people living further south. You can sign up on Starlink's website to join the mailing list so you'll know when Starlink internet will be available in your area.
Who has the fastest satellite internet?
Viasat currently offers the fastest satellite internet at speeds up to 100 Mbps.
Is satellite internet as fast as cable internet?
Some satellite internet plans technically offer download speeds as fast as cable internet in some areas, but it likely wouldn't seem faster because of satellite internet's higher latency. Additionally, satellite speeds top out at 100 Mbps while cable speeds can reach up to 2,000 Mbps.
Don't know what latency is? We explain here.
Is satellite internet good enough for streaming (e.g., Netflix)?
Yes, you can stream with satellite internet, but there are a lot of factors to consider before you do—especially data caps. With satellite internet, you'll be picking a data plan as well as a speed, and your data plan can make a big difference in your speed. If you use too much data, your speeds will be slowed for the rest of the month, which can impact the ability to stream video.
Since streaming can be tricky on satellite, we wrote two guides to help you get the most out of your internet connection: Your Guide to Streaming with Satellite Internet and How to Stop Buffering When Streaming with Satellite Internet. 
Should I get satellite internet or fixed-wireless internet?
If you have a choice between satellite internet or fixed-wireless internet, you may get more data for your dollar by opting for fixed wireless. Many fixed-wireless plans offer higher data caps or even unlimited data and are usually cheaper than satellite internet service. Satellite internet typically has more limited data plans (10 GB to 150 GB per month). For more information on fixed-wireless internet, check out the best fixed-wireless providers for rural areas.
How do I know if I qualify for subsidized broadband internet service through the FCC Lifeline program?
The Lifeline program offers a $9.25 per month discount on internet service with Viasat, HughesNet, or dozens of other internet providers. If you live on Tribal Lands, you may qualify for additional services.
How can I get internet access on tribal lands?
You can get internet on tribal lands with satellite internet, DSL and dial-up internet (which run through phone lines and are not available everywhere), and wireless (which is broadcasted using cell phone towers and will work if you have good mobile service in your home). Cable internet from companies like Xfinity or fiber internet from companies like AT&T, Google Fiber, or Frontier Fios are usually not available on tribal lands.
Many tribal lands are underserved in regards to high-speed internet services. NPR reported that only 50% of individuals on tribal lands had access to high-speed internet. Newer satellites from companies like Starlink can help provide high-speed internet access to many tribal lands. The Hoh tribe in Washington State got to try out Starlink internet service before the rest of the public.
Satellite communication relies on having a clear view of the sky, so people living in heavily wooded areas or narrow canyons (where there isn't a clear view of the sky overhead) may not be able to get satellite internet. 
You can find out more about bringing internet service to your area (or your home) by checking into the FCC's internet assistance programs for tribal lands. Recognizing that rural areas are more likely to not have access to internet, the FCC offers Enhanced Lifeline Benefits for Tribal Lands.
How can I get quick access to internet during the COVID-19 pandemic?
You can get quick internet access by first finding out which providers are in your area. If your options are limited or too expensive, look into hotspotting off your mobile phone or getting 4G LTE home internet service from Verizon, T-Mobile, Ladybug Wireless, UbiFi, Wahoo Internet, and others.
How can I get the internet if I don't qualify for government subsidized internet but I can't afford broadband due to being furloughed or other events?
You might actually qualify for the Lifeline government program, even if your income is usually too high. During the coronavirus pandemic, some rules of the Lifeline program were waived to help people quickly get internet services and promote social distancing.
How does satellite TV work?
Satellite TV works in a relay system similar to satellite internet, but it uses a set-top box and a TV instead of a modem and internet-ready device.
How can I get high-speed internet in rural areas?
Satellite internet is available in almost every rural area in the US. Satellite internet plans come with download speeds from 12 Mbps to 100 Mbps, and 25 Mbps is the current FCC standard for high-speed internet.
What is satellite broadband?
Satellite broadband is another term for high-speed satellite internet. Satellite internet can provide service to remote areas more easily than Fiber or Cable broadband connections. The FCC standard for broadband requires a minimum download speed of 25 Mbps.
Can I use my own modem with satellite internet?
You need a satellite modem to get satellite internet, and typical modems do not support satellite service. Viasat and HughesNet require customers to use their satellite modems, which include a router (although you can use your own router if you wish).
Can I get satellite internet for RV?
It would be nice to equip an RV with satellite internet, but this isn't currently practical for most people. VSAT (very small aperture terminal) equipment is the only type of satellite internet equipment that is transportable, but this type of mobile satellite internet equipment is expensive ($5,000 and up) and delivers a really slow internet speed (less than 1 Mbps).
So, for most people, we recommend using cellular internet in your RV by strengthening your mobile phone signal with a booster, using a mobile hotspot, or signing up for a portable 4G LTE home internet plan that isn't tied to your location (Verizon's LTE Home Internet doesn't work on the road). 
Is satellite internet good for gaming?
Because of the distance satellite internet data has to travel—22,000 miles to outer space and back twice—lag is unavoidable. Any game that requires rapid response, like Call of Duty and other first-person shooters, will be unplayable with satellite internet's delay.
When Starlink and other satellite services become available, the lag time will be much lower than it is on current Viasat and HughesNet services. SpaceX CEO Elon Musk says Starlink internet will even be fast enough for competitive gaming.
Is satellite internet a good option?
Satellite internet is a great option when DSL, cable, and fiber internet aren't available.  In some areas, you have access to high satellite internet speeds up to 100 Mbps, but it can be a bit pricey. Other parts of the country may have slower speeds of around 12 Mbps available in their area. Data caps and latency associated with satellite internet make it less than perfect as well, but it can get the job done and is certainly better than no internet at all.
Is satellite internet better than DSL internet?
Depending on the provider, DSL and satellite internet speeds are on par with each other. Satellite is more widely available, but DSL internet usually has higher data caps, which means you can do more web surfing before your speeds are throttled. Refer to Satellite Internet vs. DSL to determine which internet type is best for you.
Can you stream with satellite internet?
Yes, it's easy to stream with satellite internet. You may notice some lag if you're skipping around the video, but once a show starts streaming, it will download at a normal pace. Both HughesNet and Viasat have options to help you save data when you stream so you don't use up your data allowance too quickly.
Satellite internet: Fact vs. fiction
FICTION: Satellite internet is slow.
While satellite internet can't deliver the gigabit speeds of some fiber-optic internet providers, its top speeds still reach up to 100 Mbps, which is competitive with many cable and DSL providers. Eight of the twelve residential satellite internet packages available qualify as broadband. Most performance issues with satellite internet aren't caused by low speed—they're caused by high latency and low data caps.
FACT: Satellite internet has high latency.
Latency, sometimes called lag, ping, or ping rate, is the time it takes a digital signal to travel from your computer to your provider's server and back.
With satellite internet, the signal travels farther than it would with a cable, DSL, or fiber connection because it literally goes to space and back. Traveling that extra distance takes extra time. That's why satellite internet has higher latency than other types of internet technology.
You'll notice the latency the most during real-time online activities like video chatting. Latency adds to the feeling of experiencing slower speeds when you're on a satellite connection.
FICTION: Satellite internet is expensive.
Satellite internet prices are comparable with other types of internet. Most internet packages offered in America range in introductory price from about $45 to $150 per month, and it's the same with satellite internet.
Even after the introductory price expires, the long-term prices still fall in line with industry norms on almost every package.
FACT (sometimes): Bad weather interferes with satellite internet signals.
Bad weather occasionally interferes with the signal, but that issue is often blown out of proportion. Despite the potential for weather interference, satellite internet customers gave their providers higher customer satisfaction scores for reliability in 2018 than any other internet customers gave their providers.
FICTION: You can't play video games on satellite internet.
Latency can make online gaming problematic, but it can still be done. The trick is to choose the right games and optimize your setup. Check out "Your Guide to Gaming on Satellite Internet" for more details.