By Kristin Cooke | August 10, 2020
---
Getting satellite internet with a mobile satellite dish for your RV is not a simple process. Yes, it is possible, but you're looking at thousands of dollars in equipment if you opt for a mobile satellite dish, long-term service contracts (up to $400 a month or more), and subpar internet service that will make you nostalgic for the days of dial-up.
But, hey, don't despair just yet! A more realistic internet solution for your RV might be a bit unconventional, but that's what life on the road is all about. We'll cover how you can get connected to the internet on the road for a good price, whether that's using a hotspot device (satellite or cellular) or just your phone.
In this guide.
Internet options for your RV
Can I use HughesNet and Viasat in my RV?
No, you can't purchase satellite internet service for your RV directly from HughesNet or Viasat. HughesNet and Viasat are excellent options for satellite internet at home and other stationary uses, but their packages aren't suited for a moving RV. The satellite dishes you get to receive internet service at your home are not designed to be used in motion. That's why we'll be focusing on mobile hotspots in this article—they're much more . . . mobile.
Pro tip: The rental option
If you absolutely need a satellite Wi-Fi hotspot and the $600+ price tag is above your budget, you can also rent a satellite hotspot. Pricing can vary depending on how long you need it, but you can rent an Iridium Go for around $60 a week. But keep in mind that such a device is used almost exclusively for SMS messages, basic HTML emails, and calls. A single web page can take minutes or even an hour to load via a satellite hotspot. 
What you'll need for internet in your RV
To get satellite internet for RVs, you will need to either get a plan and equipment with RVDataSat or IsatHub, or add a satellite hotspot to your existing HughesNet or Dish Internet service. Instead, we recommend getting internet with a mobile hotspot device.
An internet hotspot
Since you'll be far away from any landline internet connection (unless you hook up to the free Wi-Fi from the RV park or a coffee shop or shell out thousands of dollars for a dish), your internet access will come using either a cellular or satellite hotspot.
Cellular internet options (i.e., mobile hotspots) are generally faster and cheaper. Of course, the major concern of cellular internet—or "hotspotting"—is coverage, which can't compare to residential satellite internet service. That said, it's still better than nothing.
But 4G and 3G (and even 5G in some cases) cellular coverage in 2020 is better than it's ever been—case in point: national network coverage maps.
An internet service plan
In addition to the hotspot device, you'll need a service plan. The catch is that hotspots are typically designed for use with a single provider's network, so you'll need to make sure your service provider and hotspot match. If you go with a cellular hotspot, the most popular providers are Verizon, AT&T, and T-Mobile. Sprint has some good hotspot options as well. For satellite hotspots, we recommend going with Iridium.
What to look for in a hotspot
Network compatibility
If you opt to go with a cellular hotspot, you'll need an accompanying service plan. To keep things simple, you probably want to go with the same provider you currently use for cell phone service. This keeps all your services on one bill and tends to be simpler.
There are two situations where we'd recommend going with a different provider than your cell phone service for hotspot service:
Your cell provider doesn't offer a great hotspot device or service plan.
Your cell provider doesn't offer good coverage in the areas you plan to use the hotspot.
In these cases, it's probably worthwhile to go with a different provider and deal with a second bill to get a better service.
Maximum connected devices
Hotspots can support only a limited number of devices connected at once. In many cases, this limit will be more than you're ever likely to need, but it's still a good idea to check it. You don't want to end up on vacation unable to support everyone's devices.
Battery life
If you plan to use your hotspot outside the RV where you can't keep it plugged in, you'll want to make sure it has a decent battery life. Most hotspots offer between 15 and 20 hours of battery life, which we think is enough (unless you really just go to the woods to be online all day—we won't judge). The main exceptions are 5G hotspots, which tend to offer more towards 5–10 hours. That's a big difference, and it's something to keep in mind if you're considering a 5G hotspot.
5G support
Although 5G coverage is still spotty (especially in rural areas) and hard to make use of, it is a thing, and if you're lucky enough to be in a coverage area, you'll get superfast speeds (up to 1,000 Mbps with Verizon). 5G coverage should continue to expand throughout 2020, so hotspots with speeds up to 1,000 Mbps might be a perk of the not-too-distant future.
Here are a few 5G hotspot options:
As they currently stand, there are a couple issues with 5G hotspots. First, they're very expensive—several times the cost of a typical 4G hotspot. Second, the battery life tends to be much worse than equivalent 4G devices.
Overall, we think most people would be just fine with a 4G or LTE hotspot at this time, but this is more of a personal decision—if you think you'll have 5G coverage where you're RVing and want to take advantage of the speeds, go for it.
Can I just use my phone to connect to the internet in my RV?
You can use your phone as an internet connection while in your RV (or out of it for that matter—just as long as you have a cell signal). Most phones these days have a mobile hotspot feature built in that serves the same purpose as the dedicated hotspots we discussed earlier.
Verizon has the largest 4G coverage in the US while T-Mobile has the largest 5G network in the US. (Just know that although its 5G network is technically the largest, it's certainly not the fastest.) But if you want to save money, we recommend skipping big, brand-name providers and signing up for service from a mobile virtual network operator (MVNO) that uses the same cellular network as bigger providers but under a smaller name.
Don't let the overly complicated acronym deter you—MVNOs are common. It's likely you've heard of some, like Tello, StraightTalk, Republic Wireless, and Mint Mobile.
One downside to this is you'll get deprioritized traffic. The big providers save their best traffic for their direct customers and then siphon the rest of it off to the MVNO providers. Still, it's usually good enough to get by on and can save you a bundle.
But as simple and easy as just using your cell phone may sound, there are a few reasons you might want a dedicated hotspot instead of just relying on your cell phone plan:
Data limits: Most cell plans have a limited data allotment for hotspot usage, and you may not want to burn your personal hotspot data up supplying internet to the people you're camping with. Also, be sure to check with your provider that your phone plan allows hotspotting before you do it. Otherwise you could be in for some unpleasant surprises.
Battery life: If you've got a bunch of people connected to your phone's mobile hotspot, it'll eat through your battery really fast. A dedicated hotspot device will last much longer, and you'll still have your phone available and free from being constantly plugged in.
Range: Dedicated mobile hotspots usually have a longer range, so people won't have to cluster around your phone to get a solid connection. Things in an RV are already crowded enough without dealing with that.
Traveling in 2020: RVs In, Airports Out
Our survey shows that 41% of Americans increased travel by RV, camping, and road trips in summer 2020.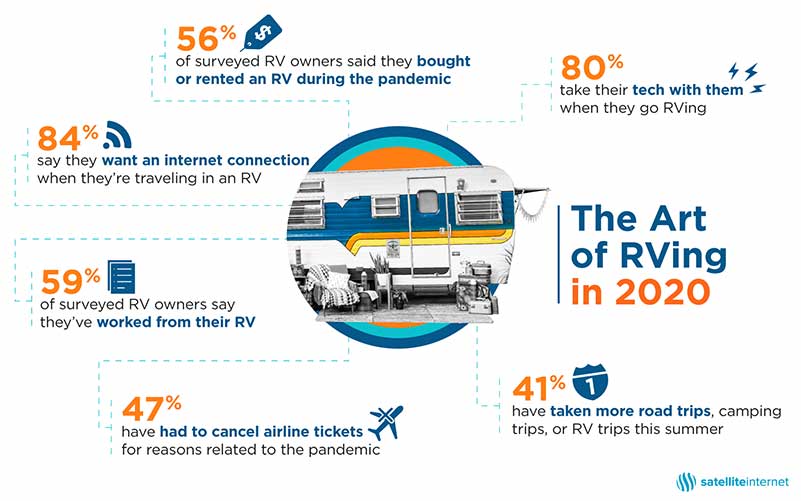 Road tripping in an RV has reached its heyday during the COVID-19 pandemic. And it makes sense. With RV travel, you can sate your wanderlust and maintain social distancing guidelines at the same time. We surveyed hundreds of Americans to find out just how much RVs factored into their summer plans.
Of our respondents, 76% said they felt safe traveling in an RV during the pandemic, while only 34% said they would feel safe traveling by airplane and staying in traditional lodgings. In fact, nearly half of respondents had to cancel or shift travel plans for 2020:
47% canceled airline travel.

41% increased their travel by RV, camping, or road trips.
We also discovered that when RV road trippers bring their creature comforts with them, that includes their internet—almost 84% of respondents said they want internet access while traveling in an RV.  Additionally, 80% of respondents said they bring their technology with them when they go RVing (phones, tablets, gaming consoles, laptops, etc.). 
As for working remotely, 59% of respondents reported that they've worked from an RV. If you're wondering how everybody's staying connected on the road, check out our guide to internet options for camping and RV.
How to get your rig
The only thundercloud to the bright spot of RV travel is that it's harder to find a good rig than it was last year. RV sales are up 170% in 2020 over 2019 numbers, which is good news if you're selling but not if you're buying. In fact, 56% of RV owners in our survey said they bought or rented an RV due to COVID-19. If you don't happen to own a cozy home on wheels, you can rent your dream rig for your next adventure from sites like RVshare or Cruise America. 
Where are all the RVs headed?
By now, most of us are hankering for a change of scenery. According to our respondents, here are the top destination states for road tripping in 2020: Florida, California, Texas, Arizona, and New Jersey. 
Since most of these states sport ocean views, we assume it's the allure of sandy beaches and salty breezes that beckons us. (Or maybe folks are looking for Bigfoot in California, Texas, and Florida?) As for Arizona—the land of eternal sun and cloudless skies—its balmy temperatures make up for the lack of ocean views, particularly in winter. 
National parks, scenic byways, ghost towns, coastal villages, and glaciers are all within your grasp when you travel in an RV. Mask on or mask off, you can enjoy most of the trip from the safety of the captain's chair. 
Methodology
The analysts at SatelliteInternet.com surveyed hundreds of Americans about their travel plans during 2020. 
FAQ about satellite internet for RVs
How much does it cost to get internet in an RV?
Getting internet in an RV costs about $99 for a hotspot with a service agreement, and the service itself usually costs about $10 per gigabyte of data. If you opt to use a hotspot on your cell phone plan, check with your provider for specific data rates and plan costs.
What's the difference between a cellular hotspot and a satellite hotspot?
Both a cellular hotspot and a satellite hotspot will give you a mobile internet connection, but there are some major differences between the two. A cellular hotspot can potentially give you faster speeds, while a satellite hotspot can work in more remote areas. It's up to you to decide which will work best for the kind of RV trips you typically take.
What's the best way to get internet in my RV?
A mobile hotspot is the most dependable and convenient way to get high-speed internet in your RV. You can either buy a hotspot device through your cell phone service provider or you can get a plan that allows you to use your phone as a hotspot.
Should I get a 5G hotspot?
You probably shouldn't get a 5G hotspot yet unless you live in an area with great 5G coverage. 5G hotspots are much more expensive than 4G hotspot models, and the service is not yet widespread enough to justify the cost—unless you've got money to burn. This may change over the course of the next year or two as carriers roll out 5G service to more locations and improve the accompanying technology. Most providers will let you check 5G coverage for their service in your area on their site.