How to Get Internet in Your RV
Find out how to get Wi-Fi in your RV so you can stream video, work remotely, and stay connected to friends and family on the road.
Data as of 10/27/21. Offers and availability may vary by location and are subject to change.
In latest news, SpaceX's Starlink has created a portable version of its residential satellite internet service that promises mobile satellite internet to RV owners—for a price.
If you're a weekend traveler, the $599 up-front equipment cost and $135 a month service are probably too steep to be worth it. But if you're an RV dweller or other large vehicle user who spends more time on the road than at home (or whose vehicles are their homes), the connectivity and speed Starlink's RV plans promise could be worth it.
Check out our Starlink for RV section below for more details on Starlink RV availability, contracts, and more.
Satellite internet options for your RV
The most cost-effective internet solution for your RV might be a bit unconventional, but that's what life on the road is all about. Many RVers stay connected using cellular data—using a mobile hotspot or a 4G LTE internet plan.
We don't recommend satellite internet for casual RV travelers. It's expensive and slow, although it does have the advantage of working almost everywhere.
If you spend most of the year boondocking in extremely remote or primitive areas, then you'll need satellite internet. But if you're like most RVers and travel through cities, beaches, and national parks, mobile hotspot or 4G LTE will be more cost-effective and will work most (if not all) of the time.
Best satellite internet for weekend RVers
Data as of 10/27/21. Offers and availability may vary by location and are subject to change.
AT&T launched a new data-only plan in spring 2021 that gives you twice as much data as previous hotspot plans. Priced at $55 per month, you can get this plan and use it with a NETGEAR Nighthawk M1 Mobile Hotspot for internet in your RV.
Like any cellular data, you won't get a signal in extremely remote areas. Before you sign up, check an AT&T coverage map to make sure you plan to travel primarily within AT&T coverage areas. AT&T is the second-best network provider in the nation and gives good value for your money. 
If you want to maximize your cellular connection in harder-to-reach locations, we recommend the MobilSat Enterprise Router and External Antenna setup. This will boost your wireless signal and give you better service in places like wonky campground settings. 
Best RV internet for urban travelers
Data as of 10/27/21. Offers and availability may vary by location and are subject to change.
Not sure if T-Mobile is for you? If you travel city to city in your RV to experience the best of America's beach towns, events, culture, festivals, and nightlife, then T-Mobile's hotspot plans might be an excellent way to get internet for your RV. 
The carrier's first 5G hotspot device—the T-Mobile Inseego 5G MiFi M2000 Mobile Hotspot—costs $336 (or $14 per month for 24 months). Pair this hotspot with a prepaid (contract-free) data plan, and you can stream and connect anywhere there's T-Mobile service. T-Mobile prepaid data plans give you a set amount of priority data and then unlimited 3G data. Video streaming is in DVD quality (480p).
T-Mobile's network is strong in cities and suburban areas but isn't as robust in rural areas as Verizon and AT&T. But T-Mobile's 5G network is better than any of the other providers. So if you're more of a city hopper, who travels from Las Vegas to Palm Springs to San Francisco, you can get faster and less expensive cellular data from T-Mobile than you'll get from any other provider.
Best RV internet for streamers
Data as of 10/27/21. Offers and availability may vary by location and are subject to change.
Nomad Internet is a great portable cellular internet option often known as 4G LTE home internet or wireless internet. If you want lots of low priced data for weekend trips and seasonal travel, 4G LTE is the way to go. 
With this setup, you can stream video, browse the internet, and check emails from any location you have a cellular connection. It isn't going to work in extremely remote areas, but if you tend to explore on the edges of civilization, it can be a great option.
When you sign up, you'll select a plan that's either on the T-Mobile or Verizon network. Check out cell phone coverage maps before ordering your plan to make sure your hot travel spots will have service. All plans include unlimited data (although excessive data usage over 250 GB per month may flag a warning from the carrier).
Best RV internet for remote workers
Data as of 10/27/21. Offers and availability may vary by location and are subject to change.
If getting online is critical because you work remotely, get a hotspot with Verizon, which has the widest cellular network. Verizon just launched four new data-only plans for hotspots or tablets. These prepaid plans can be purchased on a month-to-month basis or with a 6-month contract (the latter of which saves you $5–$10 per month). The smallest plan is the 5 GB plan, which is $40 per month. Going up from there, there's a 25 GB data plan for $60 per month, a 100 GB plan for $80 per month, and a 150 GB plan for $150 per month.
Even with Verizon's wide coverage area, you won't have guaranteed service everywhere since some national parks and forests don't have cellular service, but you'll get good service in most towns, cities, highways, and semi-rural areas. For a stronger signal in rural areas, get a cell phone signal booster like the weBoost Drive X RV for the best range, unless you want to spend a lot of time parked at coffee shops or in parking lots.
As a precaution, we strongly recommend that remote workers have redundancy options. Do this by adding another additional internet option, like a T-Mobile hotspot, a satellite plan, or a 4G LTE plan that runs on the AT&T network. With a few internet connectivity options, you'll be more likely to find service wherever you travel and keep working on the move.
Best RV internet for boondockers
Data as of 10/27/21. Offers and availability may vary by location and are subject to change.
If you're traveling to extremely remote and rugged locations, the RV DataSat 840 Satellite Antenna is the best setup for you. This fold-down satellite dish is permanently installed on the roof of your RV or van. And best of all—it works far beyond cellular service areas. As long as you have a clear, unobstructed view of the sky, you can get a satellite signal in most parts of the US, Mexico, and Canada.
But before you jump into this option, be prepared for some upfront satellite internet costs. A satellite antenna setup for RV from RV DataSat costs $6,995 and up and requires professional installation.
Mobile satellite data is slow—ranging from 1–4 Mbps depending on which plan you pick—and costs between $69 to $409 per month. Standard satellite data plans don't have enough speed or data to stream video. If you want to do any kind of video streaming, you'll have to spring for the pricier "Entertainment" plans that deliver speeds up to 4 Mbps.
RVDataSat sells RV satellite internet antennas and dishes cost $7,499 to $15,995. These satellite dishes are pretty cool—they can be used anywhere in the US, Canada, or Mexico, and they fold down during travel to minimize the risk of hitting trees or tunnels. To see a map of the satellite coverage area, go to the MobileSat website and scroll down to see the Ku-Band North America map.
Mobile satellite data is expensive. Plans from MobilSat start around $79 per month for 10 GB of data with speeds up to 1 Mbps (yeah, you read that right), which is too slow to stream video or do video conferencing. At the high end, mobile satellite plans go up to $409 per month for 100 GB od data with speeds up to 4 Mbps. With these speeds, you can send and receive email, browse the internet (albeit slowly), and stream music.
For people who live in their RV full time in a remote location, a satellite internet setup will be worth investing in. For weekend RVers looking to escape city life and connect with nature, it's not an option we recommend.
Can I get Starlink for my RV?
You may have heard about Starlink (from SpaceX) planning to offer portable, on-the-road satellite internet service. Well, you heard right—and Starlink for RVs is finally here.
Starlink's RV internet plan will cost you $599 up front for your equipment and $135 a month for internet service. That's higher than its residential satellite internet, which costs $499 upfront for equipment and $99 per month for service—but it also offers higher speeds than many other RV internet options. Plus, Starlink for RVs bills monthly, so you can pause and resume your service to coordinate with your travel plans.
But unfortunately, Starlink RV internet isn't available everywhere yet. For example, if you're in the southeastern United States or planning to travel there, you're plum out of luck until sometime in 2023, when Starlink hopes to expand its RV satellite internet plans to that region.
RV Starlink service has the rest of the US fairly well covered, but there are also some pretty significant blackout areas in the Pacific Northwest, California, Colorado, New Mexico, and Arizona.
We recommend checking Starlink's RV satellite internet availability map to see if it'll support your desired travel destinations, particularly this side of 2023.
Which internet option is best for my RV?
Should you get a mobile hotspot or spring for satellite internet? How about 4G LTE service and prepaid data cards? The best internet solution for your RV will depend on many factors: travel duration, location, importance of a 24/7 connection, and your budget. 
Find your best internet option by answering the questions below.
Do you travel in areas with cell phone service? If you stay primarily within established campgrounds, at popular lakes and beaches, at resorts, or with friends and families in cities, you will probably be within range of cellular service most of the time. If this sounds like you, get cellular internet for RV with a mobile hotspot or 4G LTE internet.
Do you travel in extremely remote areas? If you go boondocking on public lands or in areas without any type of cellular service, the only way to get online will be with satellite internet. If this is your traveling scenario, get satellite internet for RV or at least a satellite phone for emergencies.
How often do you travel? Some folks travel for months at a time while others are weekenders. If you travel a lot, you'll need much more internet data than if you are a weekender or intermittent traveler. If your travel is seasonal, such as during summer or winter months, you'll want to get internet service that is month-to-month rather than contracted for a long period of time.
How much time will you spend online during your travels? Do you plan to spend half a day or more on the internet or on video calls with friends and family? If so, you'll need to get an internet plan with enough data to stay connected.
Are you working remotely? If you work remotely, and your livelihood depends on 24/7 connectivity, you'll need to invest more heavily in your internet connection to stay productive while on the road and while camping. Remote workers need redundancy options so when one option doesn't work, another is available. 
While traveling, do you use the internet for entertainment? You'll use a lot of data if you do things like stream Netflix, Hulu, or play video games. Don't use satellite internet data for entertainment since it's expensive and often too slow. Instead, get a cellular data setup for entertainment on the road. It won't work everywhere, but streaming isn't the only option in RVs—you can also use a DVD player or get satellite TV for your RV. 
Always have a backup internet plan for your RV
How vital is internet connectivity for you while traveling? If you have work deadlines to meet, health issues, or other concerns that require 24/7 connectivity, invest in the best internet you can get and have a backup plan (or two).
Many RVers have a few mobile plans with different carriers—like one plan on AT&T's network and one with Verizon. This gives you broader coverage than one network alone can provide, although it can't deliver nationwide coverage like satellite internet can. 
What you'll need to get cellular internet in your RV
We recommend getting internet for RV with a mobile hotspot device or a mobile-friendly 4G LTE home internet plan that isn't tied to a fixed location.
To get cellular internet for an RV, you will need to have a router/modem and a data plan. The router could be a mobile hotspot device or it could be the modem/router that comes with your 4G LTE internet plan.
If you're not going to use much data, you could also hotspot for free using your mobile phone plan (depending on how much data you will use). For more information on how to hotspot off your phone, check out our article on mobile hotspotting, which includes a review of the best mobile phone plans for hotspotting.
Since you'll be far away from any landline internet connection (unless you hook up to the free Wi-Fi from the RV park or a coffee shop or shell out thousands of dollars for a dish), your internet access will come using either a cellular or satellite hotspot.
Cellular internet options (i.e., mobile hotspots) are generally faster and cheaper. Of course, the major concern of cellular internet—or "hotspotting"—is coverage, which can't compare to residential satellite internet service. That said, it's still better than nothing.
But 4G and 3G (and even 5G in some cases) cellular coverage in 2021 is better than it's ever been—case in point: national network coverage maps.
In addition to the hotspot device, you'll need a service plan. The catch is that hotspots are typically designed for use with a single provider's network, so you'll need to make sure your service provider and hotspot match. If you go with a cellular hotspot, the most popular providers are Verizon, AT&T, and T-Mobile. For satellite hotspots, we recommend going with Iridium.
You can rent a satellite hotspot for remote travels
If you won't have cellular service where you're staying, and you must have access to the internet, you can rent a satellite hotspot. This saves you from having to pay $600 or more for the device. Check into options on renting a satellite hotspot, which can also give you phone service in extremely remote areas. 
Prices for renting a satellite vary depending on how long you need it, but you can rent an Iridium Go for around $60 a week. But keep in mind that such a device is used almost exclusively for SMS messages, basic HTML emails, and calls. A single web page can take minutes or even an hour to load via a satellite hotspot. 
What to look for in a hotspot
If you opt to go with a cellular hotspot, you'll need an accompanying service plan. To keep things simple, you probably want to go with the same provider you currently use for cell phone service. This keeps all your services on one bill and tends to be simpler.
There are two situations where we'd recommend going with a different provider than your cell phone service for hotspot service:
Your cell provider doesn't offer a great hotspot device or service plan.
Your cell provider doesn't offer good coverage in the areas you plan to use the hotspot.
In these cases, it's probably worthwhile to go with a different provider and deal with a second bill to get a better service.
Maximum connected devices
Hotspots can support only a limited number of devices connected at once. In many cases, this limit will be more than you're ever likely to need, but it's still a good idea to check it. You don't want to end up on vacation unable to support everyone's devices.
If you plan to use your hotspot outside the RV where you can't keep it plugged in, you'll want to make sure it has a decent battery life. Most hotspots offer between 15 and 20 hours of battery life, which we think is enough (unless you really just go to the woods to be online all day—we won't judge). The main exceptions are 5G hotspots, which tend to offer more towards 5–10 hours. That's a big difference, and it's something to keep in mind if you're considering a 5G hotspot.
Although 5G coverage is still spotty (especially in rural areas) and hard to make use of, it is a thing, and if you're lucky enough to be in a coverage area, you'll get superfast speeds (up to 1,000 Mbps with Verizon). 5G coverage will continue to expand throughout the next few years, so hotspots with speeds up to 1,000 Mbps might be a perk of the not-too-distant future.
Here are a few 5G hotspot options:
As they currently stand, there are a couple issues with 5G hotspots. First, they're very expensive—several times the cost of a typical 4G hotspot. Second, the battery life tends to be much worse than equivalent 4G devices.
Overall, we think most people would be just fine with a 4G or LTE hotspot at this time, but this is more of a personal decision—if you think you'll have 5G coverage where you're RVing and want to take advantage of the speeds, go for it.
Can I just use my phone to connect to the internet in my RV?
You can use your phone as an internet connection while in your RV (or out of it for that matter—just as long as you have a cell signal). Most phones these days have a mobile hotspot feature built in that serves the same purpose as the dedicated hotspots we discussed earlier.
Verizon has the largest 4G coverage in the US while T-Mobile has the largest 5G network in the US. (Just know that although its 5G network is technically the largest, it's certainly not the fastest.) But if you want to save money, we recommend skipping big, brand-name providers and signing up for service from a mobile virtual network operator (MVNO) that uses the same cellular network as bigger providers but under a smaller name.
Don't let the overly complicated acronym deter you—MVNOs are common. It's likely you've heard of some, like Tello, StraightTalk, Republic Wireless, and Mint Mobile.
One downside to this is you'll get deprioritized traffic. The big providers save their best traffic for their direct customers and then siphon the rest of it off to the MVNO providers. Still, it's usually good enough to get by on, and it can save you a bundle.
But as simple and easy as just using your cell phone may sound, there are a few reasons you might want a dedicated hotspot instead of just relying on your cell phone plan:
Data limits: Most cell plans have a limited data allotment for hotspot usage, and you may not want to burn your personal hotspot data up supplying internet to the people you're camping with. Also, be sure to check with your provider that your phone plan allows hotspotting before you do it. Otherwise you could be in for some unpleasant surprises.
Battery life: If you've got a bunch of people connected to your phone's mobile hotspot, it'll eat through your battery really fast. A dedicated hotspot device will last much longer, and you'll still have your phone available and free from being constantly plugged in.
Range: Dedicated mobile hotspots usually have a longer range, so people won't have to cluster around your phone to get a solid connection. Things in an RV are already crowded enough without dealing with that.
Traveling America: Road Trips Top the List
Move over, airlines and luxury cruise liners. Road tripping is now the coolest way to travel—but don't forget your hotspot!
Even as vaccination rates rise, the COVID-19 pandemic continues to sway travel preferences. A new survey by SatelliteInternet.com shows that 61% of Americans are planning more RV, camping, and road trips this year. 
But camping or road tripping in 2021 doesn't mean forgoing technology. Over 80% of survey respondents will bring their tech with them when camping. And over half of travelers will use a mobile hotspot to get internet on the road.
Related Content: See what's the best state for Van Lifers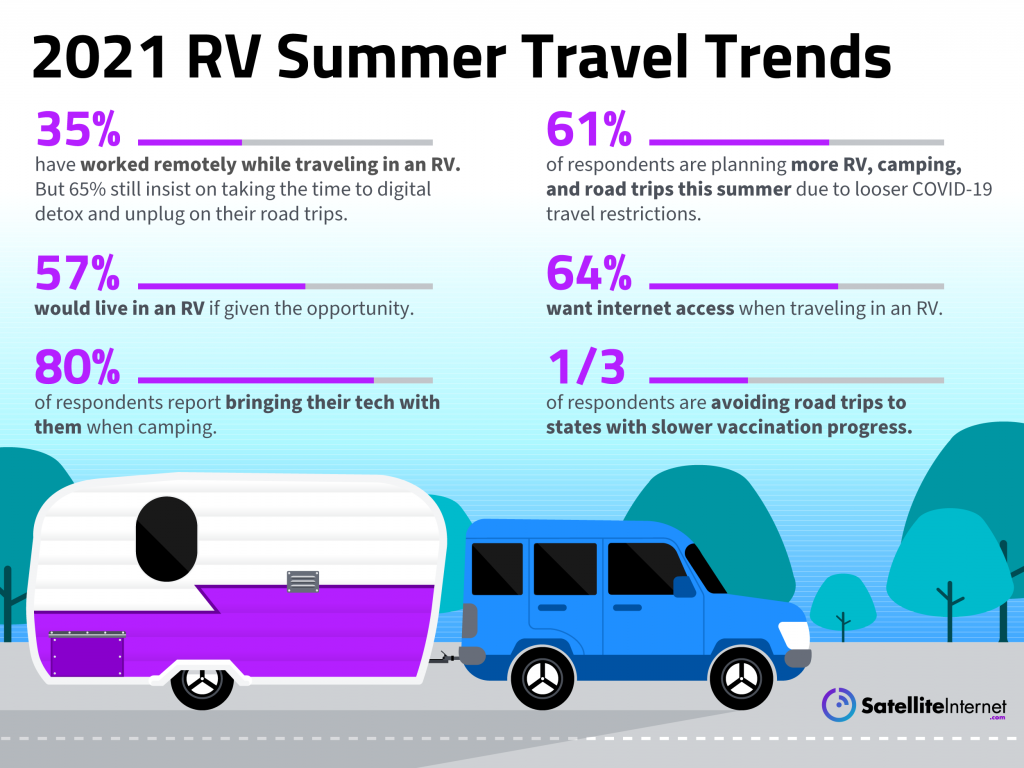 Where are Americans headed this year?
Topping the list of travel destinations this year are US National Parks, many of which were closed for parts of the past year. In 2020, national park visitation dipped nearly 28% due to traveling restrictions and park closures.1 But now that travel is picking up, many Americans are headed to the great outdoors. 
Yosemite, Yellowstone, and Acadia National Park top the list for the parks Americans most want to visit. Yosemite boasts rushing waterfalls, scenic valleys, and ancient sequoia forests that were popularized by Ansel Adams. The hot springs and geysers of Yellowstone attract visitors from around the world, although it's often the bison and bears that get the most attention. And Acadia's picturesque beaches, lighthouses, and evergreen trails also land it on the bucket list of must-see nature spots in the US. 
If you've already visited the top three national parks, try taking a road trip to another one in the top 10 list.
Our survey showed that these are the top 10 national parks Americans want to visit:
Yosemite National Park (California)

Yellowstone National Park (Wyoming, Montana, Idaho)

Acadia National Park (Maine)

National Park of American Samoa (

Pago Pago, American Samoa)

 

Zion National Park (Utah) 

Big Bend National Park (Texas) 

Arches National Park (Utah) 

Biscayne National Park (Florida) 

Grand Canyon National Park (Arizona)

Mount Rainier National Park (Washington)
All in all, our survey shows that whether it's a week-long vacation or a weekend escape, there's nothing quite as quintessentially American as the classic road trip. But most travelers are bringing their technology with them on the road. The tech experts at SatelliteInternet.com help people compare rural internet providers, explore mobile phone service and hotspot options, weigh the pros and cons of satellite internet and TV, and save money along the way—no matter where they're headed. You can check out our list from last year for the 10 fastest and slowest rural cities for internet to get a deeper look into where you might need satellite internet. 
The analysts at SatelliteInternet.com surveyed hundreds of Americans about their summer 2021 traveling plans and their tech usage while traveling. The analysis in this report is based on a Pollfish survey conducted April 21, 2021, among a national sample of 1,000 adults, 18 years of age or older, living in all 50 US states and the District of Columbia.
FAQ about satellite internet for RVs
Can I get HughesNet and Viasat in my RV?
No, you can't purchase satellite internet service for your RV directly from HughesNet or Viasat. HughesNet and Viasat are excellent options for satellite internet at home and other stationary uses, but their packages aren't suited for a moving RV. The satellite dishes you get to receive internet service at your home are not designed to be used in motion. At least—not for now.
How much does it cost to get internet in an RV?
Getting internet in an RV costs about $200 for a mobile hotspot device plus you'll also pay for the data service—which usually costs about $10 per gigabyte of data. If you opt to use a hotspot on your cell phone plan, check with your provider for specific data rates and plan costs. 4G LTE Home Internet plans offer much cheaper data with monthly service—generally 250 GB or more for about $99 per month. But, 4G LTE equipment can be a little more expensive ($200 and up) than a mobile hotspot, which does add to the cost.
What's the difference between a cellular hotspot and a satellite hotspot?
Both a cellular hotspot and a satellite hotspot will give you a mobile internet connection, but there are some major differences between the two. A cellular hotspot can potentially give you faster speeds, while a satellite hotspot can work in more remote areas. It's up to you to decide which will work best for the kind of RV trips you typically take.
Some satellite hotspots (like the Iridium Go!) are primarily designed for phone calls, GPS, and text messaging and are too slow for most internet activities. Satellite hotspots are great for emergencies, for day-to-day navigation, and for checking in with friends and family by text or phone. 
What's the best way to get internet in my RV?
Getting cellular internet (with a mobile hotspot or a 4G LTE home internet plan) is the best way to get high-speed internet in your RV most of the time. Once you wander away from cellular coverage areas, though, a satellite internet plan or a satellite hotspot will be the only way to connect.
To get cellular service for your RV, you can either buy a hotspot device through your cell phone service provider, buy an unlocked mobile hotspot on Amazon and get prepaid SIM cards for occasional use, or you can get a cellular plan that allows you to use your phone as a hotspot. If you sign up for 4G LTE service, you may be able to use an unlocked hotspot device you own or you may be required to use the one set up to work with the service.
Should I get a 5G hotspot for rural internet?
When you travel through cities, go to events, or visit beaches, 5G service will come in handy. 5G isn't available in all areas yet (particularly remote areas) but it's great when you can get it. Not only is it fast, but 5G service often has unlimited data, which is a big perk. But just bear in mind that if your RV travels take you to national parks, lakes, forests, deserts, or small towns, you probably won't get 5G service in these areas.
Other resources
Disclaimer
Amazon.com prices as of 10/22/21 10:37 MST. Product prices and availability are accurate as of the date/time indicated and are subject to change. Any price and availability information displayed on Amazon.com at the time of purchase will apply to the purchase of this product. SatelliteInternet.com utilizes paid Amazon links.