Intro. Price
$69.99–$299.99/mo.
Availability
99% in Wayne County
Intro. Price
$49.99–$174.99/mo.*
Availability
99% in Wayne County
*$10 off for 6 months. 24 mo. commitment required. Pricing not available in all areas. Offer valid 6/31/22-8/31/22
If you're looking for satellite internet service in Metro Detroit, you already know that cable and fiber aren't available in every neighborhood. But you'll be pleased to know that Viasat and HughesNet are available in neighborhoods where providers like AT&T, Xfinity, and Google Fiber haven't ventured yet.
You can get satellite internet from Viasat and HughesNet throughout the Wayne County, Michigan, area, including cities like Melvindale, Lincoln Park, Grosse Pointe, Plymouth, Wayne, and Taylor.
Check your zip code for available internet providers near you.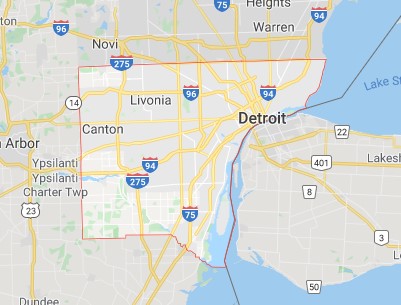 Melvindale
Lincoln Park
Grosse Point
Plymouth
Flat Rock
Allen Park
Belleville
...
Other internet options for Wayne County, MI
Other internet options besides satellite internet in Wayne County include DSL, cable, fixed-wireless, and cellular providers.
The top internet companies in Wayne County, Michigan, are AT&T, CenturyLink, Xfinity by Comcast, Frontier, Clear Rate Communications, Viasat, and HughesNet—but only the latter two options are available to residents who live anywhere in Michigan.
Let's be clear: if you can get cable, DSL, or fiber where you live, go for that over satellite internet. But for those of you who live away from cities with cable or fiber infrastructure, satellite internet is a good option to stay connected.
Is cellular hotspotting an option in Metro Detroit and throughout Wayne County, Michigan?
Cellular hotspotting is an option to Wayne County residents who can get a stable mobile phone signal where they live. You can check out hotspot plans from providers like AT&T, Sprint, Spectrum Mobile, Tello, and more.
Keep in mind that most hotspot plans come with data caps. Cellphone companies that offer hotspotting usually limit hotspot data to 10–22 GB per month.
If you want to learn more on how to hotspot, see "Should You Use Your Mobile Phone for Home Internet?"
How to get internet in Wayne County
It can be tricky to get internet in Wayne County, Michigan, but it ain't impossible. Find your new internet provider in Wayne County by typing your ZIP code into the box below. This will give you a list of which internet service providers offer service in your area.
Northern Wayne County internet
Most neighborhoods in North and Northwest Wayne County have ample internet options, but if you live near Maybury State Park or north of 7 Mile Rd, you'll have fewer options.
All parts of Wayne County can get satellite internet from Viasat or HughesNet. This includes towns as far north as Northville, although most homes in this neighborhood can choose from a wide variety of superfast providers like Xfinity, AT&T, or WideOpenWest (WOW!) (all of which offer download speeds up to 1,000 Mbps in Northville).
Central Wayne County internet
If you live in Central Wayne County, you will not claim the "fastest internet" bragging rights among your gaming friends. Cities like Allen Park, Lincoln Park, and Melvindale boast tree-lined streets, new shopping centers, Starbucks, and even a Culver's—but these cities are underserved when it comes to broadband internet.
Residents of Central Wayne County have access to internet speeds up to 100 Mbps with satellite internet from Viasat or HughesNet. But DSL internet from CenturyLink and AT&T may also be available in your neighborhood. Most CenturyLink and AT&T plans offer unlimited data—and they both have reduced priced options for residents struggling to afford broadband service.
Southern Wayne County internet
If you're looking for faster internet in Southern Wayne County—in Gibraltar, Rockwood, Romulus, or near Beaumont Hospital in Trenton—you probably have a couple of providers to pick from: Xfinity, CenturyLink, AT&T, HughesNet, and Viasat. If you live near Crosswinds Marsh or Sumpter, you may have just two or three options.
Some areas like Maple Beach and West Sumpter have DSL and satellite internet availability, although some neighborhoods are also wired for Xfinity cable internet.
What internet speed should I get?
Browse the internet
Send emails
Stream SD video
Best for 1 person
Use the internet on multiple devices
Download music
Stream HD video
Best for 1–2 people
Stream HD video on several screens
Video conferencing
Turn-based video games
Best for up to 3 people
Stream video in UHD (ultra-high definition)
Stream on multiple devices
Download large files
Best for 4+ people
Wayne County satellite internet FAQ
What's the fastest satellite internet in Wayne County, Michigan?
The fastest satellite internet in Wayne County is Viasat—which goes up to 100 Mbps in some cities in Wayne County. HughesNet offers satellite speeds up to 25 Mbps, which can still support video chat apps like Zoom or the occasional YouTube binge.
Which is the best satellite internet provider?
We think the best satellite internet provider is Viasat If you're looking for the fastest speeds and least restrictive data packages, Viasat usually beats HughesNet, although this isn't the case in every area.
Although it has slower speeds, HughesNet is cheaper overall—as long as you don't run over your data allotment and buy extra data tokens at $10 each every month. And, if you run a business or work from home, HughesNet for Business plans are attractively priced and offer good security features.
How much does satellite internet cost in Michigan?
Satellite internet costs $40 to $200 per month in Michigan, depending on your plan and how much speed and data you need. If you use lots of data at your house, we recommend you use Viasat's tips on how to use less data. You can also increase your data allotment each month by buying data tokens with HughesNet, but this can get expensive.
Overall, we recommend getting satellite TV or a TV antenna for entertainment and using your satellite internet connection primarily for browsing, working, research, video calls, and social media.
Is satellite internet a good option?
Satellite internet from Viasat and HughesNet is the best option for millions of Americans who live in areas that are underserved by cable, DSL, and fiber infrastructure. Satellite internet is designed to reach every part of the city—even the neighborhoods where cable and fiber aren't available yet.
Satellite data is metered—so unlike your friend's AT&T internet connection, you'll be watching how much data you use so it doesn't get slowed down at the end of the month. Satellite internet can also be more expensive than other types of broadband, although households who can minimize their data usage and stay on a low priced plan may not spend any more than if they lived in the city and had cable internet.
Can I watch Netflix with satellite internet?
Yes, you can watch Netflix with satellite internet. Netflix recommends a 3 Mbps download speed—and the required speed is only 0.5 Mbps. So, just about any satellite internet plan you can find will deliver ample speed—as long as you steer clear of Ultra HD (which requires download speeds of 25 Mbps). The only concern with Netflix is that it will use data, so be careful you don't go streaming through all your monthly data allotment in a few days of steady bingeing. For more information on watching Netflix with satellite internet, check out our Streaming with Satellite Internet Guide.