*Prices and availability vary by location. Installation fees, monthly equipment lease fees, and taxes may apply. After 100 GB of High-Speed Data usage, you still have unlimited access to Standard Data, which may result in slower speed.
Satellite internet from HughesNet or Viasat can deliver a reliable internet connection from anywhere in Los Angeles County—whether you live by the ocean, in the desert, or in the mountains. 
If you live in a small town or rural area, satellite internet might be the best choice to keep you connected to jobs, entertainment, and news every day.
But we won't beat around the bush—satellite internet is still a clear second choice when compared to big city internet with cable infrastructure and fiber-optic speeds. Satellite internet just can't support constant video streaming all month or fast-paced video games like Fortnite. And it costs a pretty penny. So before you sign up, make sure you don't have cheaper (or faster) options available. 
Satellite internet won't be second-string forever though. By 2021, Starlink (from SpaceX) and OneWeb are expected to become operational. Starlink and SpaceXwill offer much faster satellite internet in Los Angeles County than current options. These next-generation satellite companies could compete head on with cable and fiber for speed and cost.
Check your city/address for available internet providers
Cities in Los Angeles County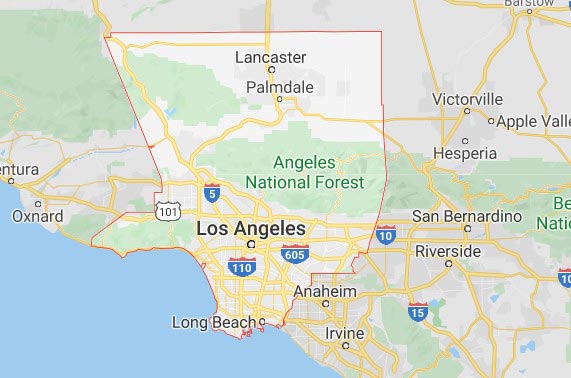 Glendale
Lancaster
Long Beach
Los Angeles
Palmdale
Pomona
Santa Clarita
Torrance
Agoura Hills
Alhambra
Arcadia
Artesia
Avalon
Azusa
Baldwin Park
Bell Gardens
Bellflower
Beverly Hills
Bradbury
...
Other internet options for Los Angeles County
Many people in rural Los Angeles County have internet service through phone lines (DSL internet), which can be cost-effective and reliable. Other people use mobile service providers, using their cell phone plan for all home internet use. Cable or fixed wireless might be other options. And if none of these options are available, then you can get satellite internet.
The best thing about HughesNet and Viasat satellite internet is that both providers will be available to you wherever you live. HughesNet isn't as fast as Viasat (it offers speeds up to 25 Mbps), but it offers lower prices and fewer price hikes. Viasat offers the fastest satellite internet speeds currently available (up to 100 Mbps in some parts of Los Angeles County).
To check out all the internet providers in your area, enter your address above or use the "Change Zip" tool below.
Is cellular internet (hotspotting) an option in rural areas of Los Angeles County?
Cellular internet, or hotspotting, is an option in rural areas of Los Angeles County just as long as you have a good cell signal. But some sparsely populated areas in northern Los Angeles County (such as towns like Elizabeth Lake) may have spotty mobile service, making hotspotting difficult.
For those unsure of what hotspotting is, it's where you share the internet connection from your mobile phone with a laptop, smart TV, or other device. It's as simple as turning on the Personal Hotspot/Hotspot and Tethering feature on your phone—which you can find in Settings—and entering the password on your other device.
Not all cell phone plans allow hotspotting, and those that do usually have data limits. Even if they offer unlimited hotspot data, speeds slow way down once you hit a certain data threshold.
Plus, you need to live in an area with good cell phone reception (which doesn't cover many rural areas). It's ideal to have at least 4G LTE speeds (Verizon's 4G LTE speeds are between 5 and 12 Mbps). But for those with minimal data needs (such as occasional emailing or browsing), hotspotting could save you money over getting an expensive home internet plan.
How to get internet in Los Angeles County
We're not all city birds! Spanning close to 5,000 square miles, Los Angeles County includes thousands of homes that don't have access to fiber or cable internet. Even if you live on a remote ranch or tiny resort town, you can get satellite internet from HughesNet or Viasat as long as you have a view of the southern sky. (That rules out any cave dwellers, apparently.)
Satellite internet in Los Angeles County
If you're considering satellite internet from HughesNet or Viasat, it'll require having a technician install a satellite dish on the side of your home. Most satellite plans also require a one- to two-year contract. Satellite plans vary in price from $30 per month to $150 or more per month. The price difference is not just about speed. Satellite internet data is metered, so your price also depends on how much data you are purchasing each month.
Neither satellite internet provider will cut you off once you reach your data max each month, but both will slow you down to the speed of molasses until your data resets the following month. That's why satellite internet should be used as a last resort, when other connection types aren't available.
Northern Los Angeles County internet
Thousands of Los Angeles County residents don't have access to fiber or cable internet speeds. For these folks, satellite internet is sometimes the fastest option—including people living in Lake Hughes and nearby settlements in the Angeles National Forest. Other than small and unincorporated communities, most larger towns in the area—like Lancaster, Palmdale, and Lake Los Angeles—have fiber and cable internet available that's going to be a better option than satellite internet.
Residents of Valyermo, Llano, and communities skirting the Mojave desert may get the fastest speeds with satellite internet. Although technically this area is covered by AT&T, Sprint, Verizon, and T-Mobile, mobile reception can be spotty, so hotspotting may not be an option.
Southern Los Angeles County internet
Southern Los Angeles County takes in LA itself, as well as urban cities like Long Beach, Torrence, Santa Monica, Hollywood, Pasadena, West Covina, Burbank, and Santa Clarita. If you live in Southern Los Angeles County, you'll probably have access to fiber internet from Frontier or AT&T, cable internet from Spectrum, and maybe even a couple of local fixed-wireless providers. People in Southern Los Angeles County usually don't use satellite internet, since it's more expensive and there are plenty of faster, cheaper options available. Mobile service is also available from all major providers.
Santa Catalina Island internet
If you're lucky enough to have a vacation home in the resort town of Avalon on Catalina Island, satellite internet might also be your best bet since it offers the fastest download speeds. Catalina Broadband Solutions also provides service to some parts of town and—although it has a max speed of 10 Mbps—it gives you unlimited data, which is a big perk. If you're looking for mobile service, you can get a signal from Verizon, T-Mobile, Sprint, or AT&T in the city of Avalon, but Verizon has better coverage around the island.
What internet speed should I get?
Browse the internet
Send emails
Stream SD video
Best for 1 person
Use the internet on multiple devices
Download music
Stream HD video
Best for 1–2 people
Stream HD video on several screens
Video conferencing
Turn-based video games
Best for up to 3 people
Stream video in UHD (ultra-high definition)
Stream on multiple devices
Download large files
Best for 4+ people
LA County's fastest and slowest internet speeds by city
According to the US Census Bureau, Los Angeles County is home to over 10 million people, and 80% percent of them have an internet connection. With an average of three people per household—all cooped up during the COVID-19 outbreak—is everyone in LA getting the internet speeds they need?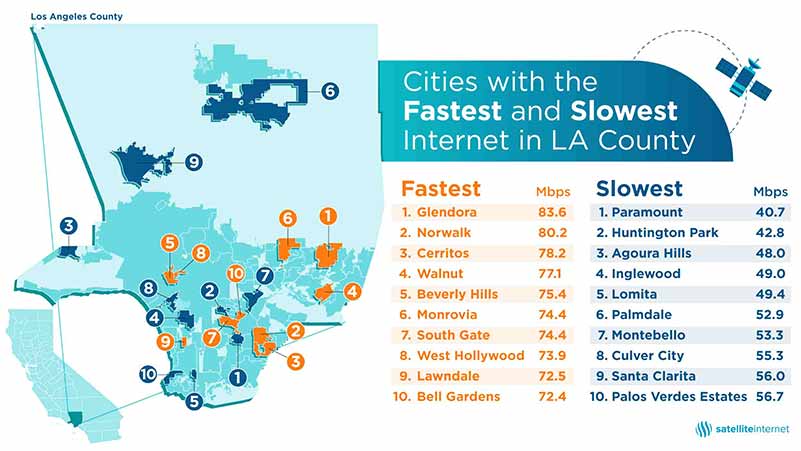 The average speeds in Los Angeles County ranged from 40.7 to 83.6 Mbps, which means even the slower areas should have connections capable of supporting basic use from a single device (or more) from each person. Basic use wouldn't include everyone streaming HD on every screen while browsing Instagram on their phones, but for web browsing, email, and other basic activities, they should be okay.
LA County's 10 fastest internet speeds by city
| | | |
| --- | --- | --- |
| Rank | City | Average speed (Mbps) |
| 1 | Glendora | 83.6 |
| 2 | Norwalk | 80.2 |
| 3 | Cerritos | 78.2 |
| 4 | Walnut | 77.1 |
| 5 | Beverly Hills | 75.4 |
| 6 | Monrovia | 74.4 |
| 7 | South Gate | 74.4 |
| 8 | West Hollywood | 73.9 |
| 9 | Lawndale | 72.5 |
| 10 | Bell Gardens | 72.4 |
Los Angeles County's top 10 internet speeds range between 72.4 and 83.6 Mbps on average, with Glendora having the fastest internet on average in LA County. While the fastest internet speeds in the country go up to 1,000 Mbps (and even 2,000 Mbps in certain areas), lower-speed packages like 25, 50, or 100 Mbps are still the norm for most people.
LA County's 10 slowest internet speeds by city
| | | |
| --- | --- | --- |
| Rank | City | Average speed (Mbps) |
| 1 | Paramount | 40.7 |
| 2 | Huntington Park | 42.8 |
| 3 | Agoura Hills | 48.0 |
| 4 | Inglewood | 49.0 |
| 5 | Lomita | 49.4 |
| 6 | Palmdale | 52.9 |
| 7 | Montebello | 53.3 |
| 8 | Culver City | 55.3 |
| 9 | Santa Clarita | 56.0 |
| 10 | Palos Verdes Estates | 56.7 |
What about the slower side of Los Angeles County internet? Speeds ranged from 40 to 57 Mbps. The slowest internet speeds were found in Paramount, which had less than half the speeds of Glendora, which had the fastest speeds.
Is it a household income problem? Not necessarily. Some of the top 10 fastest cities in LA County didn't have the highest median incomes, including South Gate and Bell Gardens. No matter where you live, we always recommend checking your local providers to see what the best deal is for faster speeds.
We analyzed over 37,000 internet speed tests from Los Angeles County—with a baseline of at least 100 tests per city—and ranked them from fastest to slowest. All other data is sourced from the US Census Bureau's fact sheet for LA County.
LA County satellite internet FAQ
I live in northern Los Angeles County. How can I get internet service outside the metro area?
Satellite internet from Viasat or HughesNet is available everywhere, including rural areas of northern Los Angeles County in the mountains or near the desert. Satellite internet may not be your only option though. AT&T, Spectrum, or a handful of smaller local providers might also be available. Enter your ZIP code above to see the exact providers available in your area.
What's the fastest satellite internet in LA County?
Currently the fastest satellite internet in Los Angeles County is Viasat, which offers speeds up to 100 Mbps in some areas. HughesNet internet speeds are all set to 25 Mbps.
When will Starlink satellite internet be available in Los Angeles?
It's anticipated that Starlink by SpaceX will be available in Los Angeles by 2021, with service available earlier in some areas. No definite details have been shared on pricing or speed, but statements suggest that they'll offer cost-effective internet plans that are faster and have less latency than any existing satellite internet.