*$10 off for 6 months. 24 mo. commitment required. Pricing not available in all areas. Offer valid 6/31/22-8/31/22
When it comes to internet service in Shelby County, Memphis residents have plenty of internet choices—but if you cruise out of town and into the nearby countryside, your options are more limited. Small towns like Millington, Lucy, Woodstock, Eads, Fisherville, and other parts of Shelby County are high on scenic beauty but a bit short on bandwidth.
Even so, there are several reliable internet options in West Tennessee that connect farms, lakeside cabins, and small towns to the rhythm of city life. Satellite internet companies like Viasat and HughesNet offer internet service to all Shelby County residents—whether you run an apiary in Eads or you're an avid golfer in Millington.
Check your city/address for available internet providers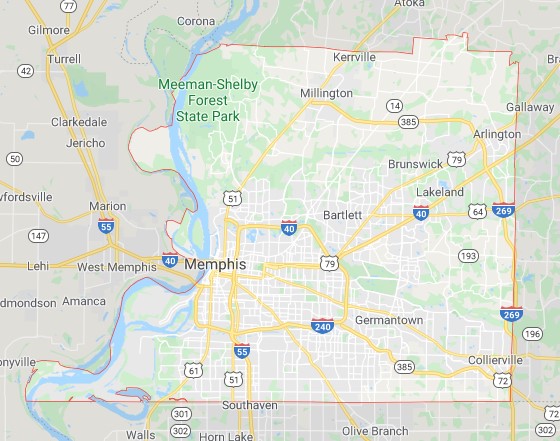 Memphis
Germantown
Millington
Lakeland
Collierville
Bartlett
Arlington
...
Other internet options for Shelby County
Tennessee is big on individuality. After all, this state isn't the birthplace of the blues, country, and rock 'n' roll for nothing! So don't you go signing up for satellite internet just because it's what your neighbors do.
Since satellite internet can be pricey, it's a good idea to check out other options in your neck of the woods before you commit. AT&T delivers internet through phone lines to some less populated areas of Shelby County, while cable giant Xfinity offers fast internet service to neighborhoods closer to the city. If you have good reception on your mobile phone, you might be able to get unlimited 4G LTE internet at your place.
Some rural communities can get fixed wireless from providers like Rural Connect or DSL from small regional providers. These internet options may not break any speed records, but they can deliver a steady stream of chill-inducing episodes of The Haunting of Hill House or American Horror Story.
To check out all the internet providers in your area, enter your address above or use the "Change Zip" tool below.
Is cellular internet (hotspotting) an option in rural areas of Shelby County?
You can share your mobile phone connection with a laptop or other device, but there are a few caveats.
You must have a good cell phone signal where you live in order to hotspot.
Your cell phone plan probably has a limit on how much data you can use while hotspotting.
Most cell phone plans that do allow hotspotting limit hotspot data to 10–20 GB per month. For most households, this isn't enough data for everyday use. But if you're in a pinch or don't use much data at home, it's possible to use your hotspot as a home internet connection. Just don't expect to be streaming Netflix every night—that will eat up your monthly data allotment quickly.
For more information on how to hotspot and hotspot data usage, see "Should You Use Your Mobile Phone for Home Internet?"
How to get internet in Shelby County
You can get internet access from up to 25 providers in the Home of the Blues, but the further you get from Memphis itself, the fewer your options. Our page on high-speed internet for rural areas has some helpful information on making the most of your internet connection speed and identifying all available options in your area.
Best internet plans in Shelby County
The best internet for your home is a plan that doesn't charge you for faster speeds or more data than you will ever need. Many small towns and rural areas in West Tennessee don't have cable or fiber internet, which means that the fastest options might not be available. That's okay for most folks, as long as you don't have plans to be the next Fortnite champion.
Northern Shelby County internet
If you live north of the Loosahatchie River—in places like Lucy, Cuba, Millington, Shelby Forest, Kerrville, or Rosemark—you probably won't have cable internet, and fiber is a faraway dream. The fastest internet in several parts of northern Shelby County is Viasat, offering speeds up to 100 Mbps in some areas. Viasat internet is the fastest option in parts of Arlington and Millington.
But don't worry, friends—3 Mbps is fast enough to stream YouTube, so you should generally be fine with not much speed. Rural Connect offers slower internet speeds around 10 Mbps, but it has unlimited data, which is a big plus compared to satellite internet. Ritter Communications offers fiber in a few areas north of I-40 (including Frayser, Woodstock, and Lucy) but offers abysmal DSL speeds once you get away from the suburbs of Memphis.
Eastern Shelby County internet
Thanks to all the new construction in Arlington and Lakeland, many homes in these growing cities are wired for fast internet with Xfinity, EarthLink, or AT&T, although some neighborhoods may get better service with DSL or satellite. A 4G LTE plan might also be an option if you can't get cable or fiber in your neighborhood.
Less populated areas like Eads have DSL and satellite internet availability, although some houses are wired for Xfinity cable internet.
Southern Shelby County and the outskirts of Memphis internet
If you live in the outskirts of Memphis, including southern Shelby County, you can usually get internet service from AT&T, Xfinity, EarthLink, and other providers. If you're living near the Mississippi border—or farther away from Memphis—you may not get fiber service. But you can still get steady speeds at an affordable price. If your home isn't covered by any land-based internet options, satellite internet is available anywhere in Shelby County from HughesNet or Viasat.
What internet speed should I get?
Browse the internet
Send emails
Stream SD video
Best for 1 person
Use the internet on multiple devices
Download music
Stream HD video
Best for 1–2 people
Stream HD video on several screens
Video conferencing
Turn-based video games
Best for up to 3 people
Stream video in UHD (ultra-high definition)
Stream on multiple devices
Download large files
Best for 4+ people
Shelby County satellite internet FAQ
How can I get internet service outside Memphis?
If you live outside Memphis, TN, you can get satellite internet from Viasat or HughesNet as long as you have a clear view of the southern sky from your place. Many cities in the outskirts of Memphis also have access to internet service from Xfinity or AT&T.
What's the fastest satellite internet in Shelby County?
The fastest satellite internet in Shelby County is Viasat—which goes up to 100 Mbps in some parts of Western Tennessee. HughesNet offers satellite speeds up to 25 Mbps, which is still plenty fast for browsing and streaming YouTube or Netflix.
Which is the best satellite internet provider?
The best satellite internet provider in terms of speed is Viasat because it offers speeds up to four times faster than HughesNet. But HughesNet is less expensive and doesn't have price hikes—you'll just have to sign a two-year contract. Both providers give you steady service, although your speeds will be slowed if you reach your data allotment before the end of the month.
Can you get satellite internet anywhere in Shelby County?
Yes, you can get satellite internet in virtually all of Shelby County. Most of Shelby County is flat, which is good for satellite internet service. It's hard to get good satellite service in the mountains and canyons. So, while that's bad news for our friends in the Smoky Mountains, it's good news for folks living in Western Tennessee.
Lakes and waterways don't affect satellite service, but heavily wooded areas and stormy weather can interfere with the signal. People who live in a remote cabin in a heavily wooded part of the Shelby Forest might not get a good satellite internet signal without removing a few trees, but you can get a signal just about anywhere else.
How much does it cost for satellite internet?
It costs $40 to $200 per month to get satellite internet at your home, depending on your data plan and speed. Satellite internet companies track your data use and will slow your service if you go over your data threshold. If this happens to you, you can increase your data allotment each month, but this can get expensive.
If you can keep your data usage low (and you don't use it for gaming or video streaming), you can probably get by with a smaller data package. But if you use your satellite internet for video streaming, gaming, and entertainment daily, you'll end up needing a much more expensive plan with more data.
Is satellite internet as fast as cable internet?
No, satellite internet is not currently as fast as cable internet. Cable internet speeds go up to 940 Mbps, while the fastest satellite internet is only 100 Mbps (and 25 Mbps in most areas). When low-Earth orbit satellite companies like Starlink and OneWeb launch internet services in the next few years, satellite internet speeds are expected to be much closer to current cable speeds.
Is satellite internet a good option?
Satellite internet can be a good option for many people who live in rural areas, but it is more expensive than hardwired internet services like DSL, cable, and fiber internet. Satellite data is also metered, which is another disadvantage. But, if you don't have other internet options available, satellite internet can keep you connected to family and friends living far away, e-learning courses, news, and more.