By Kristin Cooke | March 23, 2020
If you're a frequent traveler or road warrior, a mobile hotspot can be an excellent way to carry your own secure Wi-Fi with you wherever you go. You can stay connected from a cabin, houseboat, vacation home, RV, or a remote worksite with this handy device. And if you're working from home, mobile hotspots can keep you connected to the world while you try to keep things going for you and your household.
Some companies offer reimbursement for mobile hotspots and data plans. If you're required to work from home and don't have good internet service in your area, check with your employer to see if your company will cover some or all of your plan.
The COVID-19 pandemic has enabled a lot of professionals to work remotely—from doctors to designers—and sent many students home to learn remotely. This has created a gaping need for better bandwidth in America's homes. Mobile hotspots can help solve this issue, particularly for those who live in remote areas and don't have cable or fiber networks running to their homes.
Best mobile hotspot devices
Swipe left to see all →
| Best Verizon hotspot | Best AT&T hotspot | Best Sprint hotspot | Best hotspot for international travel |
| --- | --- | --- | --- |
| | | | |
| Inseego 5G MiFi M1000 Hotspot | NETGEAR Nighthawk M1 Mobile Hotspot | MiFi 8000 Mobile Hotspot | Skyroam Solis X WiFi Smartspot |
| $649.99 or $27.08/mo.* | $349.99 | $240 | $179.99 (buy) or $8.99/day (rent) |
| View on Verizon | View on AT&T | View on Sprint | View on Amazon |
*with a 2-year contract. Purchase price without contract is $649.99.
Data as of 3/10/2020. Offers and availability may vary by location and are subject to change.
What is a mobile hotspot?
A mobile hotspot is a small device you can use as a Wi-Fi connection and carry with you wherever you go. It's essentially a mobile router for cellular data. To use one, you'll need to pay for data service in addition to purchasing the mobile hotspot.
A mobile hotspot devices give travelers and mobile workers a reliable way to stay connected while on-the-go. A hotspot delivers secure internet anywhere you have a cellphone signal. Since they require their own data plan, mobile hotspot devices won't eat up your cellphone's data allowance. Some mobile hotspots, like the Skyroam Solis X, are designed for international travel and can be purchased or rented on a daily basis.
All of our recommended mobile hotspots permit simultaneous Wi-Fi connection to 2.4 GHz or 5 GHz bands, which gives you the flexibility to find the fastest connection in your area.
Inseego 5G MiFi M1000 Hotspot
Best for Verizon customers
If you're traveling around the US—or just working from home for a bit— the Inseego 5G MiFi M1000 is an excellent option. It's 5G enabled, which means it can deliver the fastest available speeds wherever you roam. This Wi-Fi mobile hotspot features a sleek, low-profile design and easy-to-use color touchscreen.
If you're living in an area with limited 5G (or none at all), this device still works great. It'll deliver the fastest available speeds and lowest possible latency on 4G and older mobile standards.
It offers up to 24 hours of battery life with each charge, and it fuels up quickly thanks to Quick Charge™ technology.
Offers 5G Ultra Wideband connectivity

Connects up to 8 devices

Works in over 130 countries 

Features a 2.4-inch color touchscreen

Utilizes 2.4 and 5 GHz Wi-Fi 

Powered by a high-capacity 4400 mAh Li-Ion 

Works with dual-band Wi-Fi

Offers customizable security settings
Did you know?
When the COVID-19 pandemic hit and Americans started working from home, Inseego 5G MiFi M1000 Hotspots flew off the shelves. New devices were completely sold out everywhere by March 16, 2020. It's still unavailable on Amazon but you can get it through Verizon.
This and other mobile hotspot devices helped thousands of workers set up a home office and stay productive. 
NETGEAR Nighthawk M1 Mobile Hotspot
Best AT&T hotspot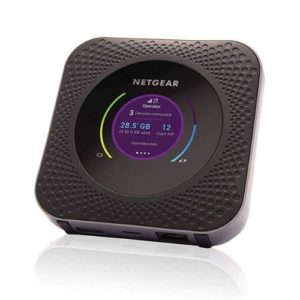 Enabled for 5G speeds
Set up for international use in select countries
Feels heavy compared to other mobile hotspots
May be updated with a newer model sometime in 2020
The NETGEAR Nighthawk M1 Mobile Hotspot is a robust travel router that connects up to 20 devices simultaneously. It supports 4G LTE and 5G speeds (where available), although it is quite a bit heavier and clunkier than other devices on our list. Still, that extra weight comes mostly from the long-lasting battery, which is helpful while traveling.
Like many mobile hotspots, NETGEAR Nighthawk has a contract-free option, which is great if you primarily use the hotspot for vacations or seasonal travel. Data doesn't carry over into the next month—it's use it or lose it. The contract-free option is a great way to avoid paying a monthly fee for a hotspot you use only during the summer months.
One unique feature to the NETGEAR Nighthawk is that it includes antenna ports. We really like this because it gives you a way to strengthen weak signals with a booster or antenna. Also, it can run off battery or be plugged directly into an outlet, which is handy for folks planning to park it in a stationary location for long-term use. ("I love having to remember to crawl under my desk every night to charge my router," said no one ever.)
Connects up to 20 devices

Features hyperextended 24-hour battery life

Includes full-color display

Supports data speeds up to 1 GB

Features internal memory storage up to 512 MB

Can be used outside the US (but roaming charges apply)
Did you know?
During the 2020 COVID-19 pandemic, AT&T kept its NETGEAR Nighthawk prices the same while Amazon sellers generally raised them. AT&T's online store sold out of these highly rated mobile hotspot devices by March 13, 2020.
In lieu of the NETGEAR Nighthawk, we recommend this device instead, which has some of the same features with a more lightweight design.
MiFi 8000 Mobile Hotspot
Best for Sprint customers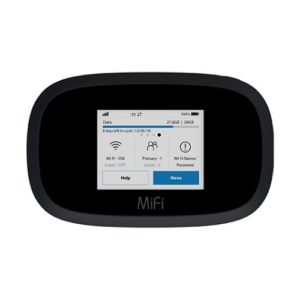 Enabled for 5G coverage (where available)
Functions as a backup power bank to charge your devices
Does not work internationally
For frequent travelers who plan to stay inside the US, the MiFi 8000 Mobile Hotspot is worth investigating. It offers affordable data packages that can keep business travelers, remote workers, and RVers connected as they explore the country.
It doesn't work anywhere outside of the US though. And since it operates on the Sprint network, the coverage area is smaller than you'd get with Verizon or AT&T. In major cities and metro areas, you'll get great coverage but it may not be the best option if you do a lot of off-roading or camping.
It's worth noting that although the MiFi 8000 Mobile Hotspot is enabled for 5G coverage, you can only get 5G speeds only in select areas. In most areas, data is 4G LTE—which is plenty fast to watch a movie during a layover, but it isn't going to knock your socks off like 5G speeds.
Connects up to 10 devices

Features a full-color touch screen

Enables speeds up to 1 Gbps (1,000 Mbps)

Features hyperextended super-extended battery life of 24+ hours

Affordable purchase price and data packages
Did you know?
When the 2020 COVID-19 pandemic occurred, workers across America got serious about getting reliable home internet. The Sprint MiFi 8000 sold out quickly, but if you're in a pinch we recommend the Netstick USB Modem instead, which only powers one device or laptop but is lightweight and portable.
Skyroam Solis X WiFi Smartspot
Best for international travel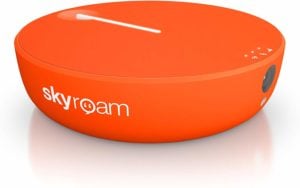 Best option for travel outside the US
Available for purchase or daily rental
Not the best option for travel within the US (there are cheaper options)
The Skyroam Solis X is our top pick for frequent international travelers. Although this portable Wi-Fi device doesn't include quite as many countries as the Verizon Jetpack (130 versus 185), Skyroam's data is more affordable. You can buy data by the gig, by the day, or in 5-day, 10-day, or 20-day packs. And for those who make frequent trips every month, there's a monthly price that beats Verizon's Jetpack hands down.
You can buy a Skyroam Solis X for under $200, or rent one for $8.99 per day (which includes daily unlimited data). We really like the rental option and recommend it to people who travel internationally.
Within the US, Skyroam's data rates are rather expensive. So, if you primarily travel within the country, we recommend a mobile hotspot device with AT&T, Verizon, or Sprint, since you'll get more data at lower rates. But if your travel extends into South America, Europe, Asia, and beyond, you'll have a better experience with Skyroam Solis X.
Connects up to 10 devices

Works in over 130 countries around the world

Permits simultaneous Wi-Fi connection to 2.4 GHz or 5 GHz bands

Features battery life of 16+ hours

Offers flexible data packages: pay by the day, gig, or month

Includes bonus features like  like smart assistant, remote camera, and power bank to charge your devices
Did you know?
When office and call center workers switched to working from home in spring of 2020, the Skyroam Solis was the only device on our list that was still available within two weeks of official pandemic declaration. This is probably because as an international company, Skyroam maintains a much larger stock than US-based Wi-Fi mobile hotspot retailers
Choosing a mobile hotspot data plan
The most economical data plan you can get for your mobile hotspot is usually with your current cellphone carrier. For instance, Verizon offers a mobile hotspot data plan for $10-$15 per month to current Verizon customers. But if you get it alone, it will cost $60 per month.
If you travel to parts of the country where a different carrier offers better coverage than your cellphone carrier, getting a hotspot plan with another carrier can be a good idea. This would give you multiple data choices wherever you go. Often, RVers who travel through different parts of the country have phone and hotspot plans with different carriers to get the widest combined coverage area between both devices.
Best mobile hotspot data plans
Pricing current as of 3/10/2020 and includes auto-pay discount, when applicable.
Our verdict
For US travelers, Sprint offers the most economical mobile hotspot and data packages—data averages 33 cents for each GB of data. We recommend Sprint to folks looking for an affordable mobile hotspot for Wi-Fi on the go.
Plus, with Sprint you won't get overage charges. If you go above your monthly data allotment, you can continue to use data at 2G speeds—which won't be fast enough to watch a video on YouTube without a lot of buffering, but you can keep sending emails. Or you can add more data to your Sprint plan in 2 GB increments for $10, which is half the price of additional data with AT&T or Verizon.
Pro tip
Sprint is currently offering a special on their MiFi 8000 device, which is usually $10/mo. for 24 months. Right now, you can get it for $2.50/mo. Add a 30 GB data plan for $10/mo. and you've got a mobile hotspot for less than $15/mo.
Another thing we like about the Sprint MiFi plan is that you can rollover up to 50 GB of data per month, so you can stock up a bit before heading out on the road. Plus, if you have cellphone service with Sprint, you may have up to 100 GB of additional personal hotspot data on some plans.
But Sprint's mobile hotspot isn't good for everybody. Sprint's coverage area is smaller than Verizon or AT&T. If you travel outside major metro areas, you may not have good service. For those who travel outside Sprint's major coverage areas, we'd recommend going with another carrier. AT&T and Verizon are best for far-ranging travelers within the US, while Skyroam is our top pick for international travelers.
How does a mobile hotspot work?
A mobile hotspot device works like a portable modem and router. It captures available mobile data and broadcasts the internet connection to multiple devices. You need to have a cellular data plan to use a mobile hotspot.
When do I need a mobile hotspot?
You need a mobile hotspot when you want a reliable internet connection that can travel with you. Mobile hotspot devices are popular with business travelers because many companies reimburse for mobile hotspot service but not mobile phone expenses. RVers and people with vacation homes also rely on mobile hotspots to stay connected. Remote worksites use portable hotspots to connect up to 20 employees with one device.
Can I use my mobile phone as a hotspot instead of getting a mobile hotspot device?
You can use your mobile phone as a hotspot if you turn on the hotspot feature. (Check out this article for more details: Should You Use Your Mobile Phone for Home Internet?) It's not a free-for-all: mobile providers restrict the amount of data you can use while hotspotting, but it can work for some people.
If you travel only occasionally, you might not need a separate mobile hotspot device—using your cellphone's hotspot may be all you need. But if you work on the road or take road trips in your RV every weekend, we recommend getting a mobile hotspot device and a flexible data plan.
Can I use a mobile hotspot in backcountry areas?
A mobile hotspot won't work in backcountry areas unless you have a cellphone signal. Some hotspots have antenna ports, such as the NETGEAR Nighthawk. It's possible to boost service and strengthen a weak signal by attaching an extender or antenna to your mobile hotspot, but you can boost service only if you have a signal in the first place. For more information, check out the Portable Internet Guide.
How much is a mobile hotspot?
Mobile hotspot devices range in price from about $50 to $350. Data fees are billed separately, starting around $10 per month.
How can I use a mobile hotspot without paying for a data plan every month?
You can avoid paying for a data plan every month by getting a prepaid or pay-as-you-go data plan. Some plans offer data by the gig, by the day, or by the month. Some devices can even be rented on a daily basis like the Skyroam Mobile Hotspot, which gives you the use of the device and unlimited data for $8.99 per day.
Where can I get an unlimited mobile hotspot plan?
Sprint offers an unlimited hotspot plan—but before you get too excited let's explain what "unlimited" means. You'll get a metered amount of full speed data, and then your data will be slowed to 2 G speeds (remember the early 2000's, when you had a flip phone you used for calls and text messages?). Once you hit the data threshold, and your data slows to these speeds, you'll still get to use an unlimited amount of data but it will be really slow..
If you're looking for unlimited mobile hotspot data, you'll come across several plans that are marketed as unlimited, but this just means that after you've used up your monthly data allotment, you can still use reduced-speed data until the next billing cycle.
Which mobile hotspots have the best battery life?
The Sprint MiFi 8000 and the NETGEAR Nighthawk mobile hotspots have the best battery life—up to 24 hours on one charge. Some portable Wi-Fi devices have a battery life of 8 hours or less, which often isn't practical for full-time travelers and road warriors. A few devices (like the NETGEAR Nighthawk) give you the option of plugging into the wall or using battery power,