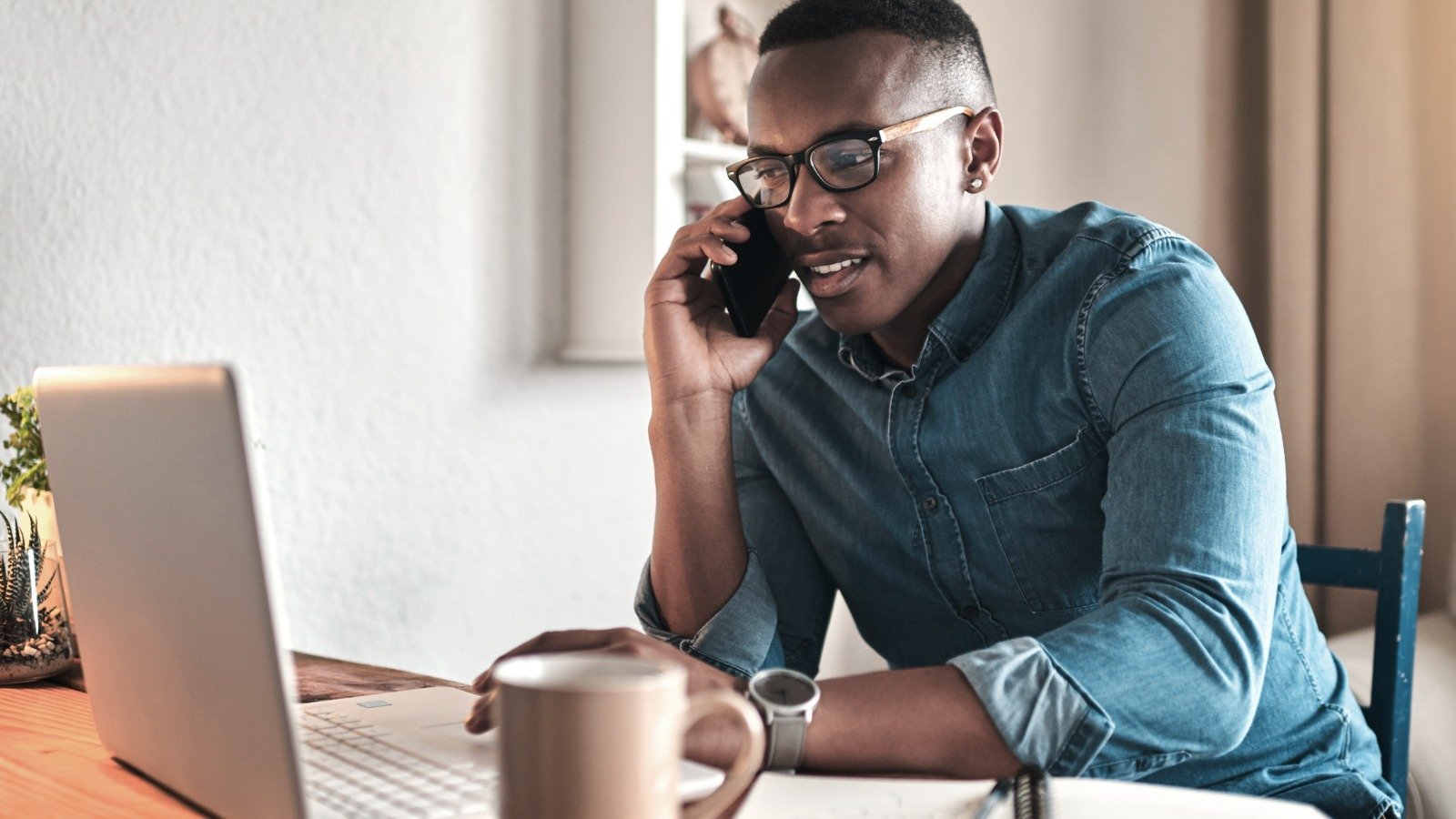 By Catherine McNally | February 25, 2019
Are you packing for a cross-country trip in your RV? Or embracing the tidal pull and heading out to sea? No matter how you travel, you don't have to give up every connection to the outside world just to relax—internet included.
But not all portable internet options are made equal. So which one should you pack for the next time you hit the road?
The 5 Best Ways to Get Portable Internet
Best Portable Internet for RVs
Swipe left to see all →
Hughes 9450-C10 BGAN Mobile Satellite Terminal
• Price: $$$$
• Supports: Internet, phone, fax, SMS text
• Download: 464 Kbps
• Upload: 448 Kbps
• 802.11b Wi-Fi access point
• In-motion antenna
Buy on Ground Control
If you're a serious traveler who's on the road 365 days a year, investing in a satellite terminal like the Hughes 9450-C10 is worth it.
The 9450-C10 delivers a decked-out mobile office while you're on the road. It's not only a Wi-Fi hotspot, but it's also a connection to phone, fax, and SMS text service. Bonus: It comes with an onboard router that delivers download speeds up to 464 Kbps through Wi-Fi or a wired connection.
Sure, 464 Kbps pales in comparison to the gig speeds you could get from cable and fiber internet if you rented an apartment in the city. Streaming videos or gaming is probably out of the question, but these speeds should be fine for checking email, messaging family on Facebook, and googling stuff in your RV.
This terminal works by connecting you to the Broad Global Area Network (BGAN) network, which is made up of four satellites owned by Inmarsat. Instead of paying for your internet service online or getting a paper bill like you would with cable or DSL, you'll need a BGAN SIM card to connect. You can find these SIM cards online, and the cost depends on how many megabytes of data you need.
BGAN Cards for Mobile Satellite Internet
You might think these features will make setup a beastly task, but all you need to do is turn the 9450-C10 on to create your Wi-Fi hotspot. Voilà! Now that's something even we can handle after a long, tiresome day of traveling.
We also like that the 9450-C10 is an in-motion satellite antenna. That means it automatically finds and tracks satellite signals so you can enjoy an internet connection even while you're on the move. (Just don't web surf and drive!)
Do you call the countryside home when you're not traveling? Stay connected with satellite internet for your house.
Enter your address to learn more.
An error has occurred. Please try again.
Best Portable Internet on a Budget
Swipe left to see all →
FreedomPop + NETGEAR Mingle 4G LTE Mobile Hotspot
• Price: $
• Download: 4G LTE (5–12 Mbps)
• Data: 500 MB/mo.
• Network: CDMA
• Battery: Up to 12 hrs.
View on Amazon
It's hard to beat free data, and FreedomPop is charging just that: nothing. While you can pay a monthly fee for more data, 500 MB per month is more than enough 4G LTE data if you just need to reply to an email or check on the status of a project.
That's the beauty of mobile hotspots. Compared to spending thousands of dollars on a mobile satellite internet terminal, you can find many mobile hotspots priced under $100. And combined with a free data plan, this price is pretty hard to beat. (Though we should mention that a satellite internet terminal is a better choice for getting a reliable signal in remote areas.)
Having a standalone hotspot frees up your phone—and hotspot batteries usually outlast your cellphone battery when it's tethered. This NETGEAR mobile hotspot is small enough to be packed in a bag for travel, too, whether on foot or by plane.
That's why, while you could tether your cellphone to take advantage of that free hotspot data, we recommend grabbing a stand-alone mobile hotspot like the NETGEAR Mingle instead.
Best Mobile Satellite Internet for Camping
Swipe left to see all →
IsatHub Portable Satellite Wi-Fi Hotspot
• Price: $$$
• Supports: Internet, phone, SMS text
• Download: 380 Kbps
• Upload: 240 Kbps
• Hotspot Range: 100 ft.
• Battery: Up to 2 hrs. in use; up to 24 hrs. standby
View on Amazon
Still craving an internet connection while curled up under the stars? We've been there. And while a mobile hotspot from your phone won't cut it when the trees outnumber the cell towers, a satellite internet hotspot can still get you on Facebook.
The great outdoors actually help this satellite Wi-Fi hotspot out since it needs a clear view of the sky to establish a signal. It also weighs only 1.9 pounds, so it won't keep you from putting one foot in front of the other on your way to the next campsite.
Similar to the Hughes Satellite Terminal above, the IsatHub hotspot doesn't keep pace with urban internet speeds. But that's to be expected.
At 380 Kbps, your download speed is closer to the speed of 1990s dial-up than it is to the speed of the slowest cable internet plans available today. But, hey, you're a rugged adventurer, and we know the sights, fresh air, and peaceful atmosphere are well worth not being able to stream Community.
Another thing to keep in mind about this mobile satellite hotspot: if you're surfing the web, making calls, or sending texts, it has a battery life of only two hours—that battery life goes up to 24 hours if you leave it on standby.
Best Mobile Internet for Boats
Swipe left to see all →
Verizon Beyond Unlimited Cellphone Plan
• Price: $$ (monthly price)
• Mobile Hotspot: 15 GB of 4G LTE, then unlimited 600 Kbps
View Plan
Own a cellphone? You're one step ahead when it comes to surfing the web on your boat. Depending on your plan, you can turn your smartphone into a Wi-Fi hotspot through a process called "tethering."
Every provider has a different process, but most—including Verizon, AT&T, and T-Mobile—allow your phone to become your main internet connection to the outside world.
For travel on the lakes, rivers, and oceans in and around the US, we highly recommend Verizon's Beyond Unlimited plan. This gets you 15 GB of 4G LTE data—after 15 GB, you get unlimited data at a manageable 600 Kbps.
But the main reason we recommend Verizon is it has the best nationwide coverage according to two different third-party tests, OpenSignal and RootMetrics.
Prefer to travel in international waters? You can still use your cellphone as a Wi-Fi hotspot. Here's how:
Make sure your cellphone is unlocked.
Your cellphone should work on the GSM network—both AT&T and T-Mobile use GSM, so an unlocked phone from either one should be compatible while you travel.
Once you arrive in your destination country, buy a prepaid SIM card with data (like these SIM cards from Thailand) and pop it in.
Don't want to hassle with SIM cards?
Google Fi may be a better option since it auto-detects the best wireless network available near you. Or you can grab a mobile hotspot device like this one from GlocalMe on Amazon, which automatically swaps to international networks it has agreements with—no SIM card required.
You can also buy a burner phone once you arrive at your destination or on Amazon if that seems easier. Or swap to an international phone plan from your US-based wireless provider. As far as plans go, we think T-Mobile ONE and ONE Plus offer the best perks for globetrotters.
Of course, those dreaded dead spots are always a possibility. To keep your signal from waving goodbye, get a signal booster. Signal boosters extend your coverage by boosting your existing cellphone signal, which means you'll get a better hotspot.
Learn how to turn your cellphone into a Wi-Fi hotspot.
Check the following guides for details on how to tether your phone:
Best Satellite Phone for the Backcountry
Swipe left to see all →
Iridium 9555 Satellite Phone
• Price: $$$
• Supports: Phone, short emails, SMS text
• Download: Up to 9.6 Kbps
• Battery: Up to 3 hrs. talk time, up to 30 hrs. standby time
View on Amazon
A satellite phone is your best bet if you're crossing rugged terrain on foot. Tuck one next to your bedroll, and you can maintain connections to the outside world without weighing down your pack.
Of course, with download speeds that max out at 9.6 Kbps, you won't be doing much web surfing on your sat phone.
But that's ok, and you won't be (too) disappointed if you expect to only make quick calls and send texts or short emails. And the SOS functionality adds peace of mind when the nearest town is hundreds of miles away. After all, a sat phone is meant to let others know you're safe and sound while you venture off the beaten path, not update your status on Instagram.
Speaking of "off the beaten path," Iridium's sat phones work even in the North or South Pole—but more likely you'll want something with a reliable connection between the north and south 70th parallels. Yup, the Iridium sat phone still works there too.
Though not as rugged as the Iridium 9575, the 9555 is still resilient enough to summit the Acatenango Volcano in Guatemala and still text your mom to let her know you made it.
Can I use satellite internet in any country?
Sadly, you can't use satellite internet anywhere in the world. But it's not the satellite providers' fault. The problem is that some countries still restrict internet access—even in this modern age. Be sure to check for restrictions before you travel overseas with your satellite internet hotspot.