By Trevor Wheelwright | February 23, 2021
If you're a podcast lover, you're not alone. In 2006, only 22% of the population was aware of podcasts, and now at least 75% of the adult population knows about podcasts; the number of listeners is expected to increase by about 20 million each year.1
To learn more about what podcasts America listens to, we created a list of America's favorite podcasts from the top 50 charts of Google Podcasts, Spotify, and iTunes. After using Google Ads search volume to narrow down the list to the most popular podcasts, we realized America's top shows fell into two genres: comedy and true crime.
So is your state listening for laughs, or is it trying to solve crimes? And what does our podcast listening say about us?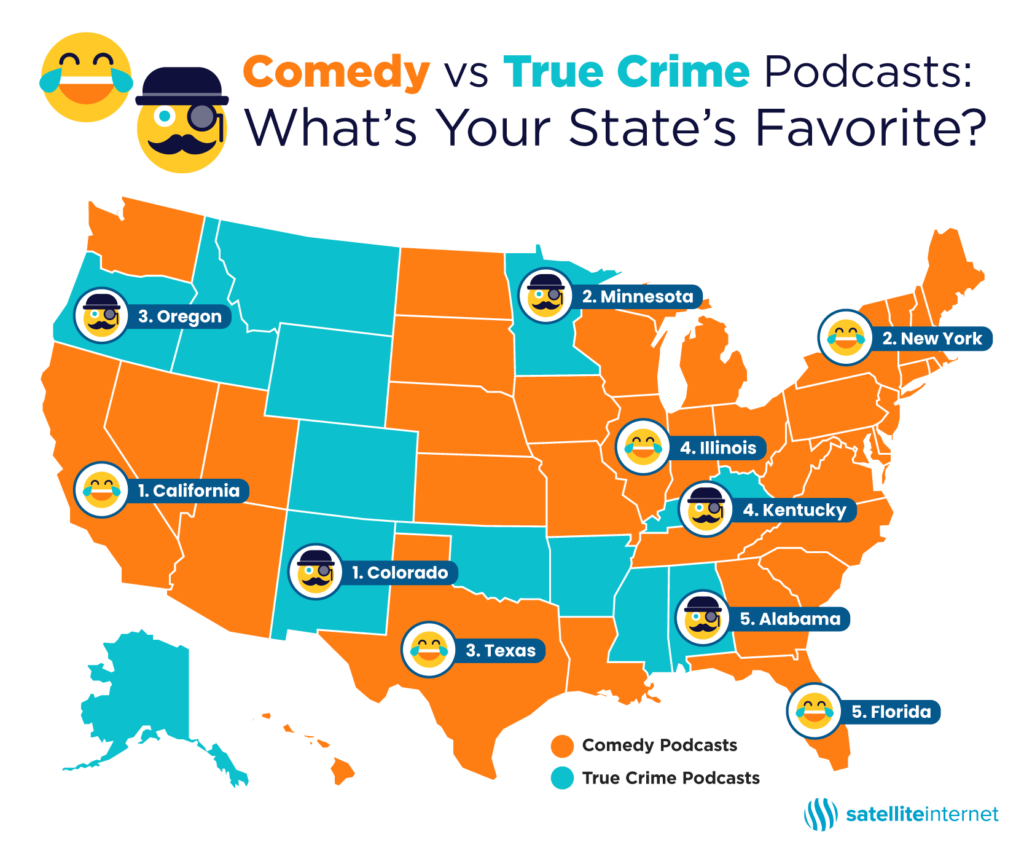 Although both comedy and true crime are popular podcast topics, 38 of the 51 states (with DC included) will choose a laugh over a mystery.
Top 10 states that love comedy podcasts
Plenty of comedians (and regular folks) have found new waves of success due to podcasts, which allow for more open content formats, longer in-depth discussions, and lower risk of censorship.
Based on search volume, the following states love comedy podcasts the most:
California

New York

Texas

Illinois

Florida

Pennsylvania

Massachusetts

New Jersey

Ohio

Michigan 
California can't get enough comedy, which is no surprise with famous comedy scenes in Los Angeles and San Francisco. The Golden State also ranked as one of the happiest states, along with comedy podcast-loving New Jersey.2
With so many comedy listeners across the country, it's fair to say a lot of us need a laugh to help balance us out. According to a study published in JAMA Network, COVID-19 tripled the rate of depression in US adults—especially in those with financial worries—and the rise is much higher than after previous major traumatic events.3
Podcast pro tip
Do you love streaming podcasts but hate lag and buffering? You may have an internet problem. We can help:
Top 10 states that love true crime podcasts
We love a good, challenging mystery, and maybe some psychological exploration too. Many true crime stories spotlight the human element and challenges in the justice system and may have us questioning the credibility of convictions or wondering how suspects got away.
Based on search volume, these states love true crime podcasts the most:
Colorado

Minnesota

Oregon

Kentucky

Alabama

Oklahoma

Arkansas

Idaho

New Mexico

Mississippi
Is it a coincidence these states are into true crime?
According to

WalletHub

, six of the top 10 true crime-obsessed states were also listed as some of the unhappiest states. 

Some of the most dangerous metro areas are in states like Alaska, New Mexico, and Alabama which is also true-crime obsessed. 4
Deep Dive: America's Favorite True Crime and Comedy Podcasts
Fair warning: The top podcasts in America aren't exactly family-friendly. While true crime shows involve violence and morbidity, the top comedy podcasts aren't exactly squeaky clean either (except Office Ladies, which has a wholesome vibe).

America's top comedy podcasts
The most-searched-for podcast in America is Call Her Daddy, which is a sex-positive talk show. The podcast features host Alex Cooper discussing relationships, life, and a variety of sexual antics with a slew of famous guests.
Office Ladies, hosted by Jenna Fischer and Angela Kinsey of The Office TV Show, features the duo talking about, well, office-appropriate discussions across a wide variety of topics that can appeal to most folks without much grief.
Your Mom's House is hosted by comedians Tom Segura and Christina Pazsitzky. Their unique brand of observational humor may have you wondering why you're laughing at how awful people can be, but at least you're laughing. The show features a variety of comedians and other pop culture guests. 
America's top true crime podcasts
Serial is a true-crime podcast from the creators of The American Life radio program, hosted by journalist Sarah Koenig. Serial explores a single non-fiction story over the course of a season, giving you insight into investigative journalism.
Morbid: A True Crime Podcast covers serial killers, unsolved mysteries, and all sorts of spooky things. The show uses accurate research to dive into subjects while adding humor to lighten the mood. 
Criminal, hosted by Phoebe Judge, features stories about people who have been wrapped up in unsightly business: victims, perpetrators, and everyone in between. The engrossing stories give listeners a broader perspective on some of the more grisly acts of life.
What podcasts will America listen to in 2021?
Forecasts suggest that the number of podcast listeners will increase by around 20 million each year, with listenership surpassing 160 million by 2023. Podcast genres continue to evolve as the industry gains more corporate interest and investment. Other popular genres on the rise are daily news, education, society, and culture. The common thread between them? A good story. 
It's safe to say that our culture has an insatiable love for all things comedy and true crime. Comedy shows will continue to top the podcast-genre game with true crime close behind.