By Kristin Cooke | February 25, 2021
If you are looking for fast, affordable internet without having to sign a contract, prepaid internet is worth checking out. It's a reliable internet option for folks who are going to be moving in a few months or for those of us free spirited types who don't like feeling tied down with contracts. It's also handy for quick fixes, like when you've just moved to a new city and can't get cable internet installed for a few weeks.   
Plus, prepaid plans don't require a credit check or hefty equipment costs. Some offer free equipment (thank you, Cox!), while others charge a small equipment rental fee of $10 or so. And with prepaid, you won't ever be suckered into paying an early termination fee. If you think prepaid internet is what you need, read on for the best prepaid and contract-free internet plans in the US.
What is an early termination fee?
Many internet companies require you to sign a 1–2 year contract in order to get service. Customers who cancel their internet service early often have to pay the dreaded ETF (early termination fee). 
Amounts vary, but many companies charge $15–$20 per month for each month remaining on the contract. So if you signed a 2-year contract and ended up moving after 10 months, you could end up paying $280. Ouch! That's why prepaid or contract-free internet is a good idea for people who anticipate a move in the next few years.
Which prepaid internet plan is best?
The best prepaid internet plan will give you enough data and speed to do all you want to do online—without needing to "feed the meter" and add more data every few days. Many prepaid plans limit data, which can be a money trap. If you plan to do any streaming, we recommend an unlimited plan (or one with a really high data cap—like Xfinity or Cox).
The best prepaid plan for you will depend somewhat on where you live and how long you'll be using the service. If you need just a few weeks of prepaid internet while visiting friends, Xfinity's the ticket because it offers a weekly rate. 
We love the Cox StraightUp Internet plan, but it's available in less than 20 states. And CenturyLink shines bright for folks who can get it (one of our team members has used CenturyLink's contract-free plan for years and loves it), but again—it's only available in 35 states. 
Additionally, prepaid plans might deliver slower speeds than you can get with other providers in your area. Most prepaid internet averages download speeds of around 25 Mbps download. That's a fair speed, but if you have several people sharing the internet, you'll experience some slowing.
But on the plus side, many prepaid internet plans can be self-installed, they're contract-free, and they don't require a credit check.
Best prepaid internet plans
Swipe left to see all →
| | Plan | Download speed | Price | Data | Equipment fee | Learn more |
| --- | --- | --- | --- | --- | --- | --- |
| | CenturyLink Prepaid | Up to 100 Mbps | $49.99/mo. | Unlimited | $9.99/mo. | Visit site |
| | Cox StraightUp Internet | Up to 25 Mbps | $50/mo. | 1.25 TB/mo. | Free | Visit site |
| | Xfinity Prepaid Internet | Up to 20 Mbps | $45 for 30 days | 1.2 TB/mo. | $35 (one time purchase) | Visit site |
| | SIMPLE MOBILE Mobile Hotspot 40GB | Up to 20 Mbps | $49.99 for 30 days | 40 GB | $39.95 and up (one time purchase) | View on Amazon |
Data as of 2/25/2021. Offers and availability may vary by location and are subject to change. 
Pros
No equipment purchase required
No hidden fees
Self-install or professional install
Cons
Speeds vary by location
$9.99/mo. equipment rental fee
Data as of 2/25/2021. Offers and availability may vary by location and are subject to change. 
CenturyLink Prepaid (sometimes known as CenturyLink SimplePay) is a contract-free internet plan that doesn't require a credit check. You can start and stop at any time without incurring Early Cancellation Fees. It's a good high-speed internet option for people moving around a lot or for folks who don't want to buy expensive equipment up front. 
You'll pay for your internet service by credit or debit card and it will automatically renew each month until you cancel. You can keep the service for years or just use it for a few months.
CenturyLink delivers fast speeds of 100 Mbps and fixed prices, and it doesn't require a contract. It is a great high-speed internet option in many locations, although speeds aren't uniform across all service areas. There are a few parts of the country where the fastest CenturyLink speed you can get is 15 Mbps. 
Often, prepaid internet is more of a short-term solution than a forever internet plan, since it can be a little more expensive than internet plans you sign a contract for. Prepaid plans also tend to offer lower speeds and less data. CenturyLink is an exception—the price you'll pay for a contract-free CenturyLink plan is the same as if you sign a contract. And the speeds are the same also—up to 100 Mbps in some areas.
CenturyLink isn't a prepaid internet option, but it is pay-as-you-go. You pay for service on a monthly basis and can cancel at any time, without penalty. We recommend CenturyLink over many other contract-free plans because you'll get more data and speed at a lower price.

Sign up:
No contract, no credit check
Equipment:
Free Wi-Fi modem (refurbished)
Pros
No equipment purchase or rental fee
No cancellation fee
Month-to-month service
Cons
Limited speeds (up to 25 Mbps)
Data as of 2/25/2021. Offers and availability may vary by location and are subject to change. 
Cox's StraightUp Internet is our top pick for prepaid cable internet plans. It has the easiest setup, thanks to clear instructions and no equipment cost. You can get a free refurbished modem/router when you start your service, which saves you a monthly equipment lease fee or a hefty one-time modem purchase fee. 
As far as speeds go, Cox's StraightUp Internet plan offers download speeds of 25 Mbps, which is definitely not the fastest they offer. You can get speeds up to 940 Mbps with other Cox plans. But, if you only have a couple of devices, you should be able to do most things online without any issues. A speed of 25 Mbps can support streaming in DVD quality on a couple of devices, gaming, and video conferencing. 
But remember, Cox might not be available in your neighborhood. Cable providers seldom overlap, so you'll only have one cable company in your neighborhood. Some cable companies don't offer a prepaid or contract-free option. Spectrum, for example, requires at least a 12-month contract to sign up. RCN doesn't require a contract, but they don't have any prepaid options. If you want to sign up for RCN internet, you will need to pay the installation fee but you won't be stuck with early termination fees if you cancel service early.
The long and short of it is that if you can get Cox StraightUp Internet, it'll provide steady service with no up-front cost. It works well for short-term internet service, although if you want more speed you'll have to upgrade to a plan with a 12-month contract.
Price:
$45 for 30 days or $15 for 7 days
Equipment:
Refurbished modem included with first month kit
Pros
No equipment purchase or rental fee
Optional prepaid Xfinity TV service add-on for $22/mo.
Weekly pricing available
Cons
Limited speeds (up to 25 Mbps)
*Data as of 12/9/2020, plus taxes and additional fees. Autopay & Paperless bill reqd. Prices higher in 2nd year. 24-month contract required with service.
SIMPLE MOBILE Mobile Hotspot 40 GB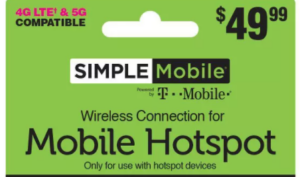 Equipment:
Data works with mobile hotspot device ($39.99 and up, not included)
Pros
Preloaded data card
Easy to set up and portable
Easy to purchase—available at Walmart, Target, and other retailers
Works anywhere within T-Mobile service area
Cons
Hotspot device purchase required
Limited speeds (up to 20 Mbps)
Expensive price per GB of data
Data as of 2/25/2021. *Actual speeds may vary and are not guaranteed. Offers and availability may vary by location and are subject to change.
Our top pick for travelers is the SIMPLE MOBILE Mobile Hotspot 40 GB data card. A mobile hotspot works like a small, portable modem—it broadcasts wireless data to all connected devices within a small area. You can take it to a cabin, beach house, or even grandma's farm and you'll get reliable internet on your laptop or other devices. And as long as you don't buy the mobile hotspot through a big-box mobile carrier, you won't be stuck on an installment plan and a 2-year service contract. 
To use the SIMPLE MOBILE Mobile Hotspot 40 GB data card, you'll need a mobile hotspot device that's compatible with T-Mobile, which will cost $40 to $150, depending on which hotspot you pick. If you're looking for a low priced hotspot, we like the Alcatel LINKZONE Mobile 4G LTE Hotspot. It's priced under $50 and can connect up to 15 devices (although we don't recommend splitting your Wi-Fi in that many directions unless you like slow speeds). It has a 6-hour battery life and is compatible with both Android and iOS devices.
If you're going to travel or work on the road, a mobile hotspot with a SIMPLE MOBILE data card will work well. It's contract free (unlike the data plans mobile carriers try to sell you), so you can just activate the data card and get a month of service without being locked into a long term contract. You can get the SIMPLE MOBILE Mobile Hotspot 40 GB data card at Target, Best Buy, and many other retailers.
What to look for in prepaid internet plans
When picking out a prepaid internet plan, there are a few specifics you need to get right.
Enough

speed

to do what you need to do online

Ample

data

so you don't run out before the end of the month

A

price

that you can afford
As far as data goes, the amount you need depends on how many people will be using the internet and what you'll be doing online. If you're staying in a beach condo for a month with a group of friends, even one Netflix binger could eat up 40 GB of data in a week. So we recommend getting a high data allowance if you'll be sharing the internet plan with roommates or if anyone will be streaming.
Internet speed
Most people do okay with download speeds of at least 25 Mbps. That doesn't mean you'll love this speed, but it does mean you do most internet activity without hiccoughs with this speed. You can do video streaming, video calls, social media, browsing, and even gaming with a basic high-speed internet connection of at least 25 Mbps. 
The more people you have using the internet, the more speed you'll need. Each device uses some of the bandwidth, and when the bandwidth gets split in many directions to multiple devices, everything slows down.
Data
Most people don't know how much data their household uses every month, so picking out a prepaid plan can feel like taking a shot in the dark. Is 15 GB enough for two people? How about 40 GB? 
According to a Wall Street Journal survey in autumn of 2020, the typical American household uses over 400 GB of data per month. That doesn't mean that every household needs that much data, but it's a good number to keep in mind if you're weighing the benefits of an inexpensive plan with 30 GB of data per month against a higher priced plan with unlimited data. 
To figure out how much data you use each month, use a data calculator to get an estimate. We like this data calculator from AT&T. 
Can I get by with a low data plan?
Limited data might be okay if you'll be using the internet occasionally after work to check email, the news, and social media, but if you'll be using it all day to work remotely you will need to spring for a higher priced plan. 
The advantage to prepaid plans is that you aren't locked into a particular plan. So if you sign up for a plan with too little data, try a different plan next month.
For context, keep in mind that streaming video and downloading video games use the most data. Sending emails, browsing the internet, shopping online, and messaging your friends on social media doesn't use much data. But streaming an hour of your favorite show in HD will eat up 3 GB. If you watch one hour of HD content per day, that's 90 GB in a month! Switching to SD quality video will save you a lot of data—but it still uses nearly 1 GB per hour.
Video conferencing can use 1–3 GB/hour, depending on how many people are in the conference room and what your settings are. Turning off your camera minimizes data usage, as does switching to the lowest quality video.
Our verdict
If you made an unexpected move or you just need instant internet—without the hassle of credit checks or long term contracts—prepaid internet might be a good option. It's sometimes a few bucks more than internet plans with a long term contract, but it's flexible, easy to self-install, and can be up and running quickly. And once you've settled into a new town and the cable guy finally comes out, you can cancel your prepaid plan pronto—without any fees. 
Most prepaid plans have limited speed. Download speeds around 25 Mbps are common. Cox's StraightUp Internet is one of the best prepaid plans we've found. We also recommend Xfinity Prepaid for folks in Xfinity's coverage area. 
If you don't care if it's prepaid and just need contract free internet, CenturyLink is a good option. CenturyLink's plans will give you the fastest available speeds in your area (up to 100 Mbps in some places) without requiring you to sign a contract.
Check out available internet plans in your area.
Prepaid internet FAQ
Can you buy prepaid internet?
Yes, you can buy prepaid internet from several companies. Cox, Xfinity, CenturyLink, Verizon Fios, and many other companies offer prepaid or pay-as-you-go internet service that doesn't require a contract. You can also buy monthly internet data service for a mobile hotspot device with companies like SIMPLE MOBILE or Skyroam, which is useful while traveling.
What is the best prepaid internet service?
Cox and Xfinity offer reliable prepaid internet service in many states. CenturyLink and Google Fiber are also great options if you're looking for contract-free or pay-as-you-go internet service.