Your iPhone Satellite Guide
Learn about your satellite for iPhone options on the iPhone 14 series models
SOS services are available on all iPhones, but if you want access to emergency services outside of your cellular network, iPhone Emergency SOS via Satellite is what you'll need. The Apple iPhone 14 or iPhone 14 Pro are the only iPhones that come with satellite capabilities. The extra service is free for the first two years from when you purchase your iPhone 14—after that, it'll cost you.
If you want to know how to use your satellite for iPhone services, or just want to know how it works, keep reading. We've got the answers you need.
Is iPhone 14 satellite connectivity free?
Apple Emergency SOS via satellite (which is what Apple calls its new satellite connectivity) is free for the first two years when you purchase an iPhone 14, iPhone 14 Plus, iPhone 14 Pro, or iPhone 14 Pro Max. Your two years of free SOS via satellite service starts from the date you activate your device.
If that "two years free" caught your attention and immediately made you ask, "and after the first two years?" you're not alone. Unfortunately, Apple hasn't revealed whether Emergency SOS via satellite service will cost you after the first two years or how much.
But looking at the Best Satellite Phones gives us some idea of the monthly subscription services Apple users could expect. The top satellite phone providers offer monthly subscriptions between $11.95 and $52.95. If we average those top five providers' subscriptions, we see an average of $23.96 per month, and that's with the more expensive $52.95 skewing the results a bit higher.
That all said, we'll have to see as we get closer to the end of 2024 whether Apple decides to implement a monthly subscription cost, an activation cost, or—dare we hope—simply includes it for free going forward.
Which countries have iPhone satellite connectivity?
Apple support clarifies that its iPhone Emergency SOS via satellite service is available in the U.S., Canada, France, Germany, Ireland, and the U.K. And before you worry, yes, that includes "Puerto Rico, the U.S. Virgin Islands, Corsica, Guadeloupe, Martinique, Saint Barthelemy, the Collectivity of Saint Martin, Saint Pierre & Miquelon, Isle of Man, Isle of Wight, Shetland Islands, Orkney Islands, and Scottish Hebrides."
Is the iPhone 14 a satellite phone?
The iPhone 14, iPhone Pro, and Plus and Max versions are all technically Apple satellite phones when you're using the Emergency SOS via satellite service. But they're not quite a fully-fledged satellite phone or satellite communicator. After all, satellite phones are Apple's latest foray—it's going to be its most minimal version, but there's time to develop more.
Full satellite phones and communicators like the Garmin inReach come with more services than the iPhone 14's limited location-sharing and emergency SOS uses. Satellite phones usually also give you the ability to send and receive text messages via satellite, call via satellite, receive weather updates via satellite, and access GPS via satellite. True satellite phones have significantly more robust construction than the glass-faced iPhone to ensure they can keep up with you when you're out in the wilderness.
The iPhone 14 Emergency SOS via satellite service also runs on the Globalstar satellite network, while most of the top satellite phone brands use the Iridium Network, which has more global coverage than its competitor.
For more details and differences, check out our What is a satellite phone? guide.
How do I use iPhone Emergency SOS via satellite?
To be able to use your satellite for iPhone capabilities, you need to be in a compatible country and have updated your software to at least 16.1.1. Under both circumstances, you can access your satellite services in the settings. There, you'll find the Emergency SOS via satellite feature waiting for you and its all-important demo that teaches you how to use the service.
The Emergency SOS via satellite demo will walk you through inputting information for  emergency services (medical ID, for example), let you practice finding a satellite to connect with, and help you fill out an emergency text form in case of an emergency. It even shows you how you'll be prompted to select "text via satellite" if you're outside of a cellular range.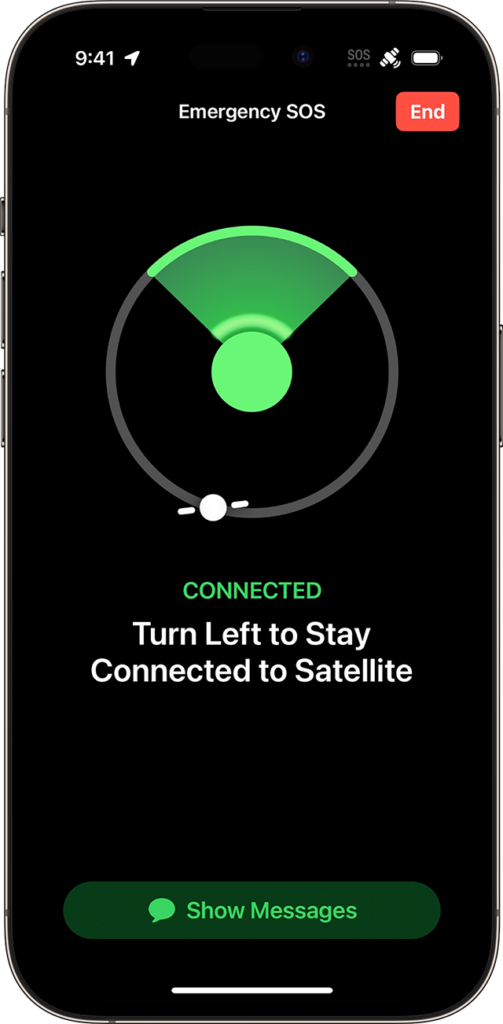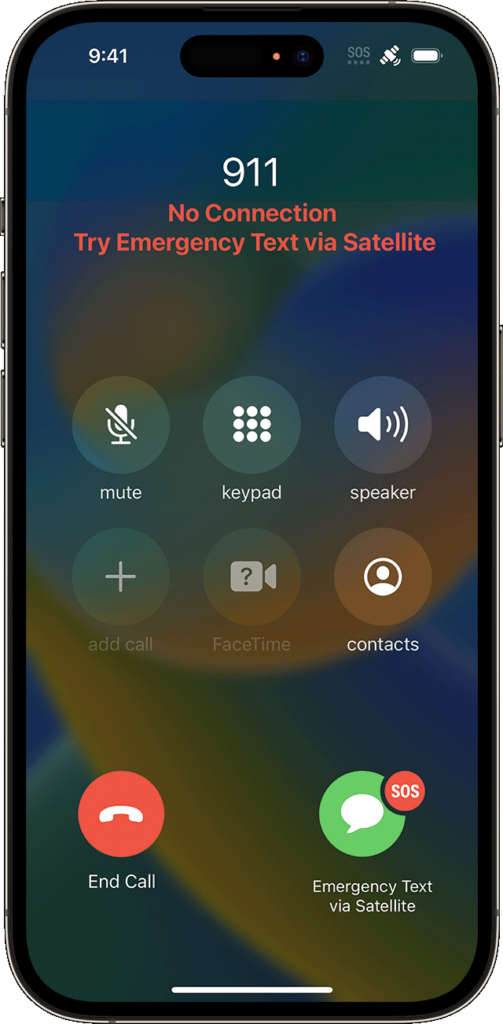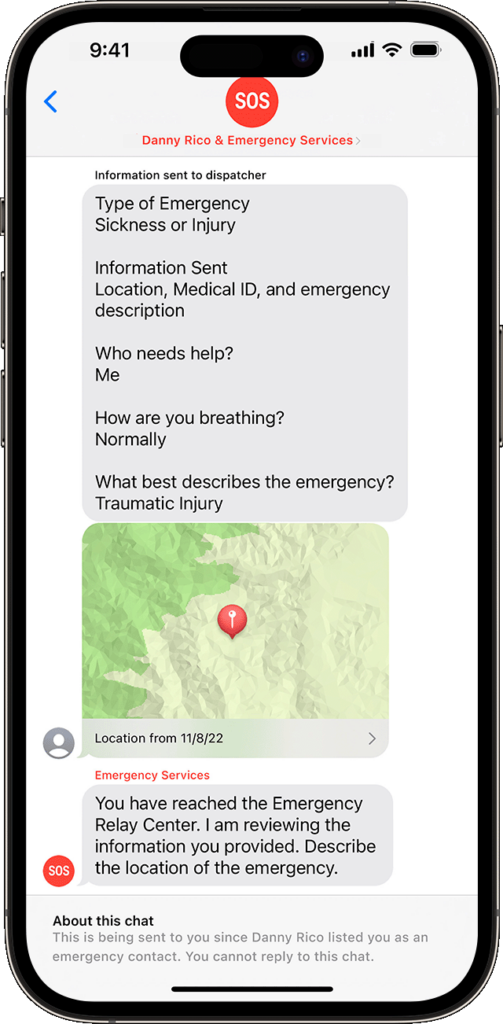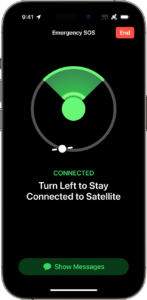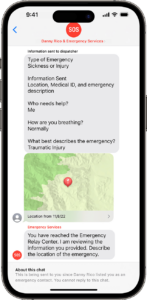 The demo is a powerful tool for preparing yourself in case of emergency, so we'd highly suggest walking through the entire process before you go out adventuring.
Send Location via Satellite
The Send Location via Satellite feature is similar to the Emergency SOS via satellite service, but it's not the same. With Send Location, you can send your location to anyone using a satellite service when you're outside of cellular and Wi-Fi access.
Of course, this feature is the most likely one to be put behind a monthly subscription in the future, as we mentioned above. If that happens, it would be best to know what your cellular coverage will look like in whatever place you're planning to explore, especially cell service in national parks famous for their remote wildernesses. 
What is the satellite symbol on iPhone 14 Pro?
Your iPhone will display "Emergency SOS" at the top of your screen whenever you're out of Wi-Fi and cellular service range. That doesn't mean your phone is sending an Emergency SOS via satellite, just that it is capable of doing so. 
Does iPhone 14 support Starlink?
Apple satellite phones (more specifically, Emergency SOS via satellite service) currently runs on the Globalstar satellite network, though Elon Musk did post that Starlink and Apple have discussed partnering on the satellite service. So far, there's no word on whether Starlink will truly provide iPhone satellite communication's network in the future.
T-Mobile's press release, however, did reveal that Starlink has already partnered with T-Mobile to keep its users connected when cell coverage isn't available. Whether that will be for emergency use only or for typical use remains to be seen, but if it is the latter, it would be a huge stride for all users worried about data roaming charges or dead spots.
But if you're wondering whether your iPhone 14 itself is compatible with Starlink internet service, fear not! All supported iPhone models can connect to Starlink internet, whether you use Starlink residential, Starlink business, or Starlink Roam. 
How does the iPhone 14 satellite service work?
iPhone satellite communication works by connecting your phone to your nearest Globalstar satellite via an internal antenna when you're outside of cell service range. That way, you can text 911 or 112 (depending on your country) and report your location when you're in need of urgent or emergency aid.
Gary Machado, the European Emergency Number Association's CEO, said in an Apple Newsroom article that they were confident "this will save many lives and offer significant help to emergency services dealing with these often very complicated rescues."
Does the iPhone 13 have SOS satellite?
iPhone 13 models have the iPhone's normal SOS capabilities, but it doesn't have Emergency SOS via satellite, which allows you to contact emergency services when you're out of Wi-Fi and cellular network ranges.
If you're the type to go to remote locations for an adventure, you might consider upgrading to the iPhone 14 or getting a full-on satellite phone to ensure you're always connected.