Who should buy an OTA TV antenna?
We love satellite TV channels, but sometimes you don't need all the extra fluff that comes with them. If you just want to watch a few basic channels and don't want to bother with satellite dishes, DVRs, contracts, or monthly service fees, an Over-the-Air (OTA) antenna might be just what you're looking for.
These antennas also make great additions to your streaming plans. If you love streaming shows but don't want to splurge for live TV on top of paying for streaming services, an OTA antenna can solve your problem. You can still watch your favorite on-demand shows, and an antenna will give you live programming on the side.
They're great for RV owners, vacation homes, cordcutters, and anyone looking to save a buck. But which antenna should you get? That's what we'll cover below.
Which Over-the-Air antenna is best?
For us, the Clearstream Eclipse gives you a reliable antenna, enough range for even rural locations, and a price point that won't ruin your budget. This overall versatility means it's a great option for almost anyone.
Our other antennas stand out as smart options depending on your specific needs—so if you want something cheap while you're in college or a long range OTA antenna for your hunting cabin, you can find those too.
Best overall: Clearstream Eclipse
Range: 50 miles

Amplified: Yes

Cable length: 15 ft.

Price: $$
Pros
Good range
Built-in amplifier
Paintable surface to match your space
Cons
Must be plugged into a power source
Our pick for the best overall OTA antenna is the Clearstream Eclipse. This antenna combines good range, a built-in signal amplifier, and a sleek design into an affordable package that's hard to beat. Plus, different models have longer or shorter ranges, so you can get an antenna that meets your specific needs.
Our favorite part of the Clearstream Eclipse is the design. It's just a little nicer-looking than the typical flat square shape of most antennas. It comes with one black side and one white side, so you can reverse it to match your decor. Best of all, it's designed to be painted over, so you can match it to your wall (or, if you're feeling fancy, paint it in an accent color).
Outdoor pick: Winegard Elite 7550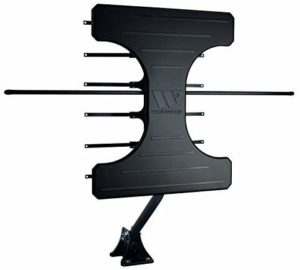 Range: 70 miles

Amplified: Yes

Cable length: Not included

Price: $$$
Pros
Long range signal
Built-in amplifier
Cons
Higher price than other options
Coax cable not included
Most of the OTA antennas on the market these days work for indoor use. You tuck the antenna away somewhere inconspicuous and forget about it.
The Winegard Elite 7550, however, is the opposite: this outdoor antenna is big, ugly, and powerful, and it's meant to be mounted right on your roof. If an indoor antenna with a shorter range isn't getting you the reception you need, this bad boy might be the answer.
Compact pick: Mohu Leaf Metro
Range: 25 miles

Amplified: No

Cable length: 10 ft.

Price: $
Pros
Extremely compact to fit almost anywhere
Very affordable
Cons
The Mohu Leaf Metro is an antenna for minimalists. If even the sleek Clearstream Eclipse is too much for you, this tiny antenna might fit the bill. The Leaf Metro is one of the smallest antennas we've seen, so it's also perfect for cramped media rooms, tiny apartments, RVs, dorms, or other places where mounting space is at a premium. It's also very affordable, which is always a nice bonus.
There's a tradeoff for its tiny size, of course: the Leaf Metro is definitely weaker than the other antennas we reviewed. The range is just 25 miles, and it lacks amplification, so you'll need to be fairly close to a broadcast tower (usually urban or downtown areas) to get good results from it.
Best value: AmazonBasics Indoor Flat TV Antenna
Range: 35 miles

Amplified: No

Cable length: 10 ft.

Price: $
Pros
Excellent value
Simple, inconspicuous design
Cons
If you just want an affordable antenna that gets the job done, you can't go wrong with the AmazonBasics Indoor Flat TV Antenna (exciting name, right?). For just 20 bucks, you get an antenna with a decent range and a fairly unobtrusive design. Like the Clearstream Eclipse, it's got reversible black and white sides, and you can paint over it to help it blend into your room.
What to look for in an OTA antenna
For the most part, OTA antennas are pretty simple devices. There are a few key things to watch out for though.
Range
The most important consideration when choosing an antenna is range. In other words, how far away can the antenna be from a broadcast tower and still pick up the signal? For the most part, anything 50 miles and up will be more than enough, and even 35 miles should work, unless you live in a very rural area. Any distance below that, you'll want to make sure there's a tower close by, or you may have problems getting a good signal.
Amplification
Many antennas come with built-in signal amplifiers that increase their effective range by boosting the signal they pick up. This sounds like it should be a great feature to look for, but there are a couple caveats:
External power source: Amplified antennas usually require an external power source. With most antennas you just need to connect the coax cable to your TV and you're set, but antennas with built-in amps also need to be plugged into a power outlet. This can make placement trickier, so keep that in mind.
Weaker signal strength: Depending on where you live, an amplifier may actually make your reception worse. If your location has a mix of both strong and weak TV signals, an amp can boost the stronger signals (which don't actually need boosting) to the point where they overwhelm the weaker ones, with the result being worse signal strength than an unamplified antenna.
Design
Indoor antennas need to be mounted fairly close to your TV. And while putting it out of sight behind the TV would be ideal, this doesn't always translate to getting the best reception. In other words, you may end up with an antenna hanging on your wall in plain view. Make sure the one you select isn't something you'd hate looking at every day! Many antennas are simple flat squares that can be painted over, which helps a lot in this situation.
Cable length
Unless you have a stockpile of coaxial cables lying around, you're probably going to need to use the one that comes with your antenna. Double-check that it's not too long or too short for your room! Too long, and you'll end up with a mass of cable dangling in space. Too short, and you may not be able to position the antenna optimally. There's no hard-and-fast rule here—just be aware of your room size so you don't have to buy extra cables.
1080p support
Most antennas these days support 1080p HD (some even support 4K broadcasts). All the antennas in our roundup support at least 1080p. But just to be sure, we recommend checking the specs on any antenna you're considering—you don't want to end up with poor picture quality when you could have had better!
Our verdict
We think the Clearstream Eclipse is the best antenna for most people, thanks to its affordable price, snazzy design, and long range. There are plenty of other options if you have a specific need though.
OTA Antenna FAQ
What's the best Over-the-Air antenna?
We recommend the Clearstream Eclipse as the best Over-the-Air antenna. It combines a sleek design and solid range with a reasonable price, and we think it'll be a great fit for most people.
What channels can I get with an Over-the-Air antenna?
You might be surprised how many channels you can pick up with an antenna. Here are some notable choices:
NBC
ABC
CBS
CW
PBS
FOX
Univision
This covers shows like Grey's Anatomy, Modern Family, The Big Bang Theory, Empire, This Is Us, The Tonight Show, and Supergirl.
In fact, PBS doesn't have a livestreaming option, so an antenna is the only way to watch its shows live—yes, we're talking to you Antiques Roadshow and Arthur fans. You can also pick up local channels and quite a bit of sports programming, including the Olympics and the Super Bowl. Not bad for the price of free!
Can I get HD channels for free?
Yes! All you need is a TV and an HD antenna, and you can get all the above channels for free—no subscription or service required.