Viasat Browser Review: Is It Better for Satellite Internet?
The free Viasat Browser claims to minimize data usage for satellite internet users. But does it work?
Why should I use the Viasat Browser?
The Viasat Browser is designed to help satellite internet users who have data caps. It's built and maintained by Viasat to give Viasat customers the best possible web browsing experience.
This browser minimizes data usage by blocking pop-up ads and ads displayed on web pages and prevents videos from autoplaying. It also uses artificial intelligence (AI) and crowdsourcing web page data to display web pages using minimal data.
What is the Viasat Browser?
The Viasat Browser is a Chromium-based web application that functions similarly to Google Chrome, except that it's built specifically for Viasat satellite internet users. It's available in a desktop version or for mobile phones and devices.
Viasat is a brand of satellite internet service that's popular in rural areas, but the web browser made by this company can help other folks as well.
For non-satellite users, the Viasat Browser is a good ad blocking web browser that will keep data usage down (and prevent your kids from streaming cartoons in HD on every device).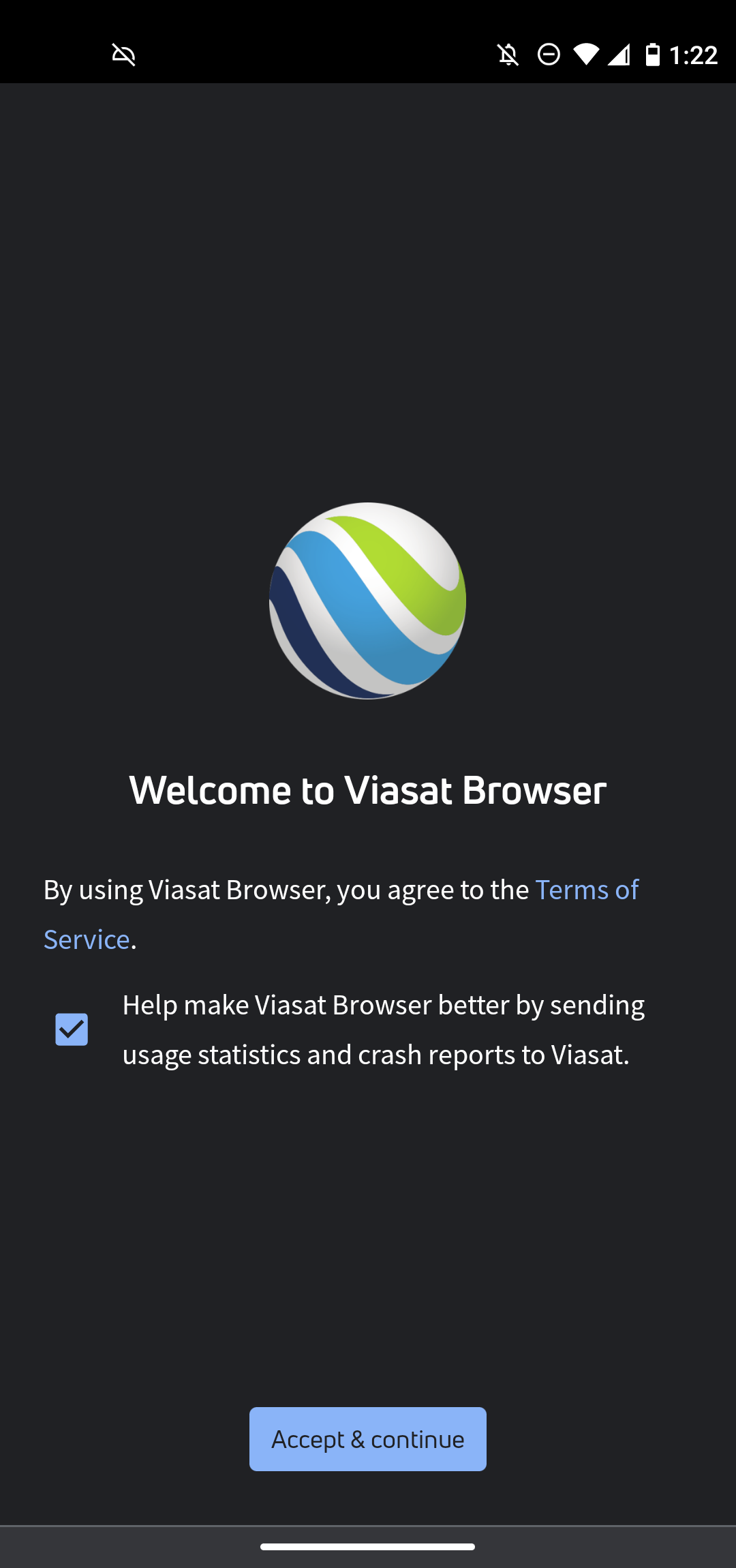 Screenshot of Android App.
How do I get the Viasat browser?
 The Viasat Browser is available for free download on the Viasat website, on iTunes, and GooglePlay.
How is the Viasat Browser unique?
The Viasat Browser is different from web browsers like Google Chrome or Microsoft Edge in several ways.
The Viasat Browser does the following:
Minimizes data usage 
Defaults to low video streaming quality to save data
Blocks ads from displaying
Prevents HTML videos from playing automatically
Requires less memory processing capacity
Speeds up web browsing experience for users on slower internet connections
Does not minimize latency or improve video gaming experience on satellite internet
Built specifically for satellite internet customers, the Viasat Browser has an optional feature that lowers video streaming quality, which can really help minimize data usage. The browser also requires less memory processing capacity to help pages load faster. All of this adds up to a better browsing experience with Viasat satellite internet service. 
No browser is magic though, so keep expectations reasonable. Even with a speedier browser, satellite internet won't work well for some types of gaming. If you're trying to play fast-paced video games like Apex Legends or Fortnite with a Viasat connection, it will still be frustratingly slow with noticeable lag. 
For more tips on what games you can play with slower internet connections, check out our guide to gaming on satellite internet.
Why does your web browser matter?
Most web browsers are made for people who don't care about how much data they're using each month. And for the many folks who have cable or fiber internet with generous data allotments of 1–2 TB per month, there's really no need to worry about data usage. 
But people with satellite internet learn quickly that data is metered—even on so-called "unlimited" plans. If you're watching every bit of data, you don't want to waste data (and time) on dozens of ads every time you check the news. Some experts estimate that online ads may account for up to half of monthly data usage.1 
You can download the Viasat Browser for free and find out for yourself how well it works. 
How much data does the Viasat Browser save?
If you're a Viasat customer who generally runs out of data before the end of the month, the Viasat Browser could help you conserve data and potentially have faster service for a larger portion of the month. 
 The Viasat Browser has a feature that minimizes data usage for video streaming by defaulting to lower quality video streams. Video streaming in UHD uses up to 7 GB of data per hour.2 Since the Viasat Browser decreases the video quality to SD, it saves a lot of data—it lowers the data usage to 0.7 GB per hour. 
If internet problems abound in your household, you might need a plan with more data. Some of Viasat's budget plans (called "Liberty" plans) include less than 25 GB of data per month, which isn't enough to do more than send some emails, watch a couple of YouTube videos, and browse the internet occasionally. To find a Viasat plan with more data, check out the data-rich plans below.
Viasat plans with the most data
| | | | | |
| --- | --- | --- | --- | --- |
| Plan name | Data | Download Speed | Promo price | Get it |
| Choice 75Mbps/150GB | 150GB/mo. | 75Mbps | $149.99/mo.* | View plan |
| Choice 100Mbps/300GB | 300 GB/mo. | 100Mbps | $199.99/mo.* | View plan |
| Choice 100Mbps/500GB | 500GB/mo. | 100Mbps | $299.99/mo.* | Visit site |
Data valid as of 3/26/2021. Speeds and pricing vary by area and are subject to change. *Promotional price is for the first 3 months. Regular internet rate applies after 3 months.
Viasat offers the second-largest amount of data of any satellite internet provider. Starlink beats it out by offering unlimited internet (Starlink isn't exactly unlimited, but that's a story for another article), but shy of that, Viasat has a juicy 500GB plan that should keep you comfortable, even if you stream TV, which is one of the biggest bandwidth-hogging activities you can do. 
Video streaming isn't the only data consumer, though. There's a lot of data that is wasted on content you don't even choose to see—ads and videos that play automatically, for example. So, blocking ads and preventing auto-play on videos can potentially save you a lot of data, if you're on one of Viasat's smaller plans. 
Pros and cons of the Viasat Browser
Minimizes data usage while browsing the internet
Compatible with Windows, macOS, and Linux computers
Compatible with iOS and Android phones and tablets
Looks and feels like Google Chrome
Increases security
Speeds up web browsing
Doesn't make online gaming any better
Offers limited customization features
Lowers video quality (this feature can be disabled)
The Viasat Browser uses AI to learn and remember frequently accessed web pages, crowdsourcing some data for a minimal data usage browsing experience. You can watch a video of the Viasat Browser racing against Chrome to load a web page. The Viasat Browser is faster at loading the web page every time. 
When we tested the Viasat Browser, we appreciated the way it stripped away all ad content. Pages just looked cleaner and it was easier to grab the information we came to the pages for. We loved seeing how many ads were blocked on each page. There's a Viasat icon on the far right hand side of the address bar that shows you the number of ads that the browser prevents from displaying. 
Like Google Chrome, the Viasat Browser runs on the Google Chromium engine. So if you're used to Chrome, it will be a familiar experience. It's compatible with Windows, macOS, and Linux computers as well as devices on Android and iOS.
How to download the Viasat Browser
It's free to download the Viasat browser. Just go to the Viasat Browser page and click on the Download Now button.
When you download the browser, you'll be asked if you want to make it your default browser. You can always make it your default browser later. You can also import all your bookmarks. 
Viasat Browser: The final take
We recommend that anyone using Viasat satellite internet should try out the Viasat Browser. It's unlike any other browser because it's built to help solve many of satellite internet's unique pain points—namely slow web browsing and running into data caps.
The Viasat Browser won't work the same for everybody though—bear in mind that your individual internet use will have a big effect on how much data you can save with the Viasat Browser. Heavy streamers and social media fans will notice big data savings, while those who use the internet primarily for sending emails or Skype calls may not notice as much data savings. And some of the features of the browser are available with special settings on other browsers. If you're already blocking pop-ups and auto-play, you might not notice much difference. But for most folks using satellite internet, it's definitely worth a try. The Viasat Browser is free and it just might help you save data.
FAQ about the Viasat Browser
Can I download the Viasat Browser with the Viasat app?
No, you can't download the Viasat Browser with the Viasat app. To download the Viasat Browser, go to the Viasat Browser page.
How can I block unwanted ads on satellite internet?
The Viasat Browser is designed to block ads that display on web pages. The default setting is to prevent ads, pop ups, and auto-play videos from eating up your data. 
How can I deactivate the ad-block feature?
You can turn off the ad-block feature on the Viasat Browser by clicking on the Viasat icon on the far right-hand side of the address bar. If you click on the icon, you'll see a screen pop up that has toggle buttons for AdBlock and AutoPlay Blocking. Click on the toggle button to turn these features on and off. 
Are there other internet options in my area?
Satellite internet does have its disadvantages, and it might not be your best option. You could have other internet providers available that could offer faster speeds, lower prices, or more data. To get a full list of all the internet plans in your area, type your zip code below.
Check local internet options